The places we inhabit play a significant role in shaping our lives. The concept of placemaking recognises this and seeks to transform ordinary spaces into vibrant, engaging, and community-driven environments. By creating places that people love and connect with, placemaking fosters a sense of belonging, strengthens community ties, and enhances the overall quality of life.
However, placemaking goes beyond simply creating public spaces or amenities. Real estate players and owners must understand that placemaking is a collaborative process by which we shape our public realm in order to maximise shared value. This involves working with the local community, government authorities, and urban planners, to name a few, to transform public spaces into focal points that bring people together, reimagining the area as the heart of every community.
Let us delve into the essence of placemaking, exploring its benefits for both property owners and occupiers and how it plays a fundamental role in connecting communities through well-crafted spaces.
Defining placemaking
At its core, placemaking is the art and practice of designing and developing public spaces to foster a sense of belonging and community. It is about recognising that the built environment has a profound impact on the community's daily lives. Building developers and owners should take into account the unique character, culture, and needs of a community to create a space that is more than functional; it should also be a place where people want to gather, interact, and form meaningful connections. Thus, bringing various benefits to property owners and occupiers alike.
Benefits for property owners
1. Improve tenant retention
A well-designed environment can enhance the overall experience for tenants, encouraging them to stay long-term and reducing turnover rates. Besides, satisfied tenants can serve as ambassadors for the commercial property, attracting others through positive word-of-mouth.
2. Increase rental value
A vibrant, well-maintained commercial property imbued with a strong sense of community, with accessible public spaces is often attractive to potential tenants. With this increased demand, property developers can enjoy improved returns on their investments through higher rental rates.
3. Attract high-value tenants
Commercial property owners often seek tenants who bring substantial value to their properties. These high-value tenants are often attracted to thriving, well-designed urban spaces featuring easy accessibility to various amenities for their operations.

By taking a multi-faceted approach to the planning and design of the premises under their management, commercial property owners can better attract the high-value tenants they desire, whether it is a corporation seeking a safe, communal working environment for its employees or a retail business seeking a location with a vibrant, bustling crowd.
Benefits for tenants
1. Enhance quality of life
A well-planned and well-designed public space can help enhance the quality of life for tenants. Aesthetically pleasing, green spaces can promote physical and mental wellness. Meanwhile, accessible parks, benches, and walking paths can complement the public space, encouraging outdoor activities and fostering a healthier lifestyle for tenants.
2. Build social connections
A crucial aspect of placemaking involves creating a conducive environment for social interactions. Ample spaces designed for communal activities, events, and gatherings can facilitate organic connections among tenants, leading to shared experiences that break down social barriers and form the basis for a sense of community.
3. Foster a sense of community identity
However, providing a place that promotes interaction, understanding, and cooperation is only the beginning. Property owners could utilise these shared spaces to host multiple events, workshops, and recreational activities to encourage tenants to bond and foster a sense of community identity.
A showcase of Keppel's placemaking efforts
At Keppel's real estate division, our tenants are a critical aspect of our placemaking efforts. As our Community & Placemaking Manager of Sustainable Urban Renewal, Ms Jessica Leong, says, "Community-building is not about organising events but delivering engagement programmes that will spark conversations and form lasting social bonds. At Keppel's real estate division, we strive to show that we are not just a landlord but also add value by creating a joyful workplace culture. Through this, we hope to encourage and foster stronger collaboration among tenants."
Let us share some of the successful community events by our Placemaking team.
1. Carnival by The Bay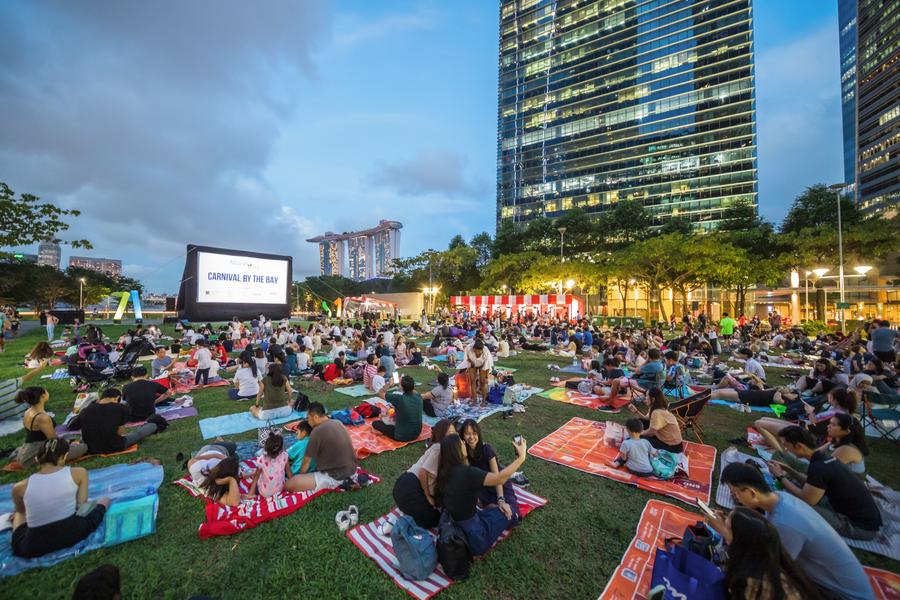 As the appointed Marina Bay pilot Business Improvement District (BID) Manager, we are delighted to work with the various stakeholders to host myriad community engagement initiatives of different scales. One of our signature initiatives is the annual Carnival by The Bay at The Lawn @Marina Bay. Our aim is to offer an ideal evening under the stars for those looking to chill out with a group of friends or enjoy quality family time, with outdoor movie screening, interactive arcade games, and exciting inflatables aplenty for adults and children. This two-day event attracts more than 5000 attendees each year.
The pilot BID programme was introduced by the Urban Redevelopment Authority (URA) with the goal of encouraging stakeholders to play a more involved role in revitalising their areas and enlivening the nearby public spaces. As the manager for Marina Bay, we are committed to activating public spaces and collaboratively planning distinctive events to bring greater energy to the area, addressing the social and recreational needs of the communities. The overarching vision is for Marina Bay to become the premier integrated destination for business, employment, lifestyle, and recreation.
2. Keppel's Golf Day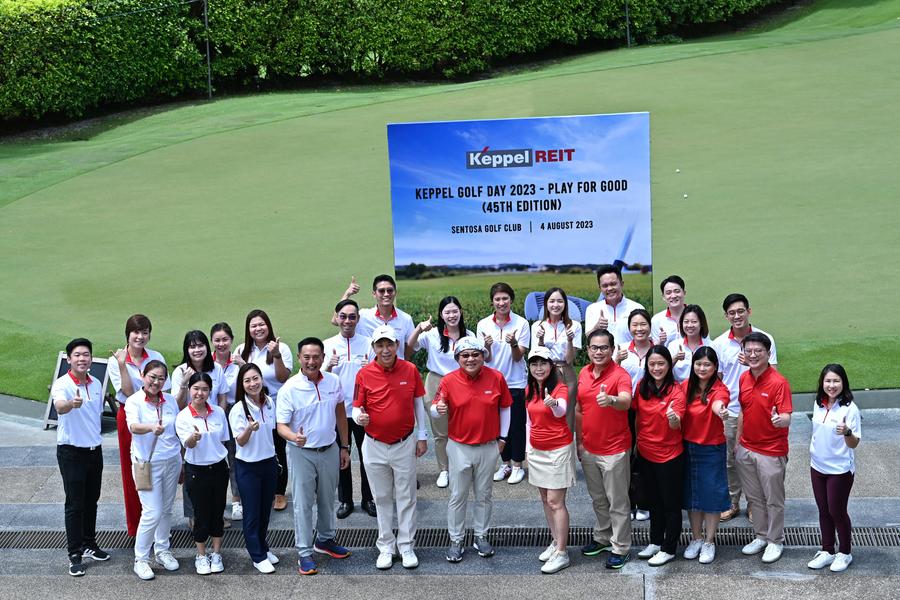 At Keppel, we are always enthusiastic about ways to engage with our tenants, and what better way to do that than by supporting a good cause, as is the case with our annual golf tournament. The 45th edition of this event, themed "Play for Good", saw our senior management tee off with tenants of Keppel REIT's Singapore commercial properties and other business partners to raise funds for the Singapore Cancer Society, with the donations based on each golfer's score.
At the end of the event, we were delighted to raise S$100,000 to aid the organisation in sustaining its diverse range of services and programmes. The event, which is part of our ongoing community-building efforts to forge stronger and meaningful relations with our corporate tenants, was a testament to our commitment to making a positive impact on our communities.
3. Regular community and wellness events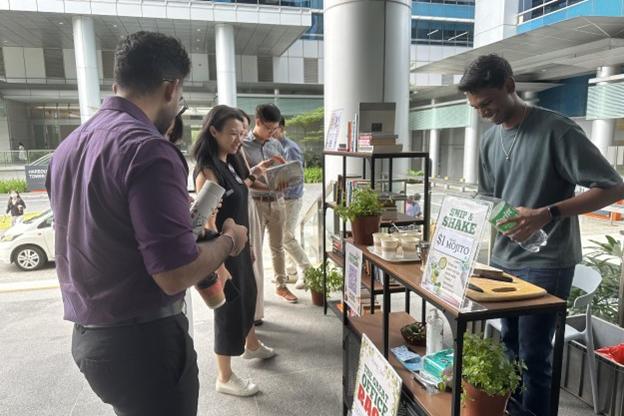 In conjunction with World Reef Day, we offered a complimentary guided tour of our multi-award-winning Marina at Keppel Bay, which is home to more than 250 species of marine animals, coral reefs, and sea plants, to celebrate our sustainability efforts for our corporate tenants. Various sustainability-themed art installations made with recycled materials were also displayed at Keppel Bay Tower and Ocean Financial Centre to raise awareness of the importance of going green.
We also organised a Keppel Bay Farmers Market, which allows our tenants to unwind from their hectic workday with some healthy lunch and grocery shopping from our eco-friendly and ethical vendors.
Placemaking is more than a design principle. It is a philosophy that recognises the intrinsic connection between people and their surroundings. By investing in placemaking, we aim to contribute to the creation of thriving communities where individuals can live, work, and play harmoniously.
Placemaking is part of our Sustainable Urban Renewal (SUR) initiative, where we aim to implement efficient shared spaces that achieve environmental goals, as well as cultivate social and wellness benefits. Other than placemaking, we aim to offer end-to-end real estate solutions, such as asset enhancement and smart asset operations, for sustainable development. If you are looking to transform your assets, do not hesitate to reach out to us to learn more about our suite of real estate solutions.