You might have heard of the term "farm-to-table" the last time you dined out. A social movement that has continued to grow in popularity worldwide, farm-to-table cuisine isn't just about tucking into a plate of organic food, it's also about knowing where your produce comes from and how it is grown.
In turn, the trend has encouraged many people to get their hands dirty—literally—by starting their own indoor farms at home. Microgreens, which are edible young plants commonly used by chefs as garnish in dishes or to enhance their flavours, are a favourite because they're nutritious and easy to manage. They can be harvested shortly after the seeds sprout leaves, so you'll be able to see the fruits of your harvest in no time.
In addition, microgreens can thrive in small spaces. This means you can recycle old plastic containers for planting pots. Other creative alternatives include mason jars, biscuit tins and even coffee mugs!
Keppel Land has just launched a three-part video series titled 'The Apartment Gardener' to show you just how easy it is to grow your own microgreens at home.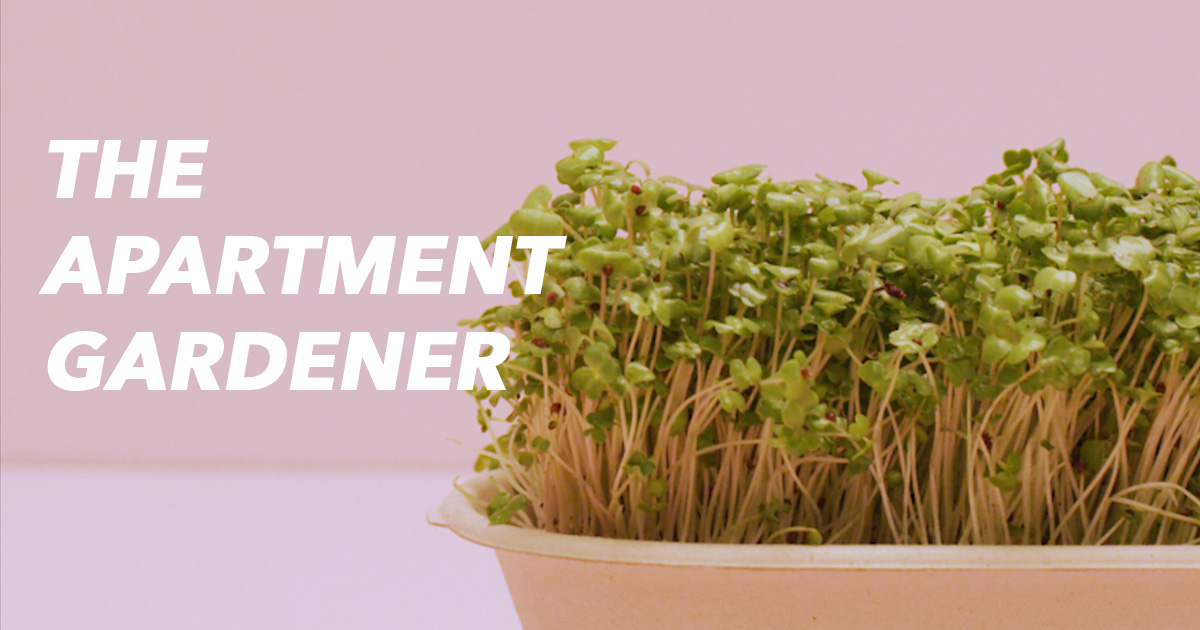 Here's what you'll need:
A container of your preference
Microgreen seeds of your choice. According to experts, basil, red cabbage and broccoli sprouts are popular choices of microgreens because they're easy to grow
Potting mix
Water
Spray bottle
Follow these steps to start planting your own microgreens:
Fill the container with potting mix —about 2cm should suffice.
Moisten the potting mix with water first so that it's nice and damp.
Scatter the seeds on the soil—make sure they're spread out evenly so that every seed gets ample space to grow.
Gently press the seeds into the soil—this ensures they'll get as much nutrients as possible.
Cover the seeds with a thin layer of soil and dampen the surface of the soil bed with light mists from a spray bottle.
Sprouts should appear in two to five days, but microgreens can only be harvested when the leaves have truly formed. The plants should be about two inches tall.
Place the container in a sunny and airy spot, we recommend the kitchen. While the seeds germinate, continue to mist the soil once or twice a day.
Finally, it's time to harvest the microgreens! Instead of pulling them out from the soil, cut the microgreens along the soil level.
Rinse thoroughly with water and your own microgreens are ready to be served.
Bon appétit!
Stay tuned to Part Two and Three of our Apartment Gardener series!