Newsroom
24 Jan 2013
Keppel Land China is Top 10 ASEAN Companies in China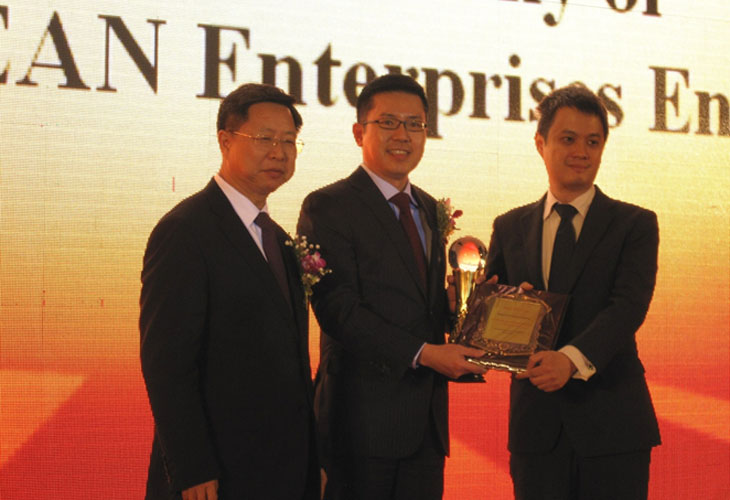 Keppel Land China Limited (Keppel Land China) has been ranked among the "Top 10 ASEAN Companies in China". The inaugural award, organised by the China-ASEAN Business Council (CABC), recognises ASEAN companies for their economic and social contributions to China.
Mr Ang Wee Gee, CEO of Keppel Land Limited and Executive Vice Chairman of Keppel Land China, said, "Keppel Land was one of the first foreign developers to enter China in the early 90's. Over the years, we have built a strong foundation in China and have grown in tandem to meet the country's urbanisation needs. Today, China is one of our Keppel Land's core markets. Leveraging our strong track record in China, we remain committed to grow further with China to meet the demand for quality homes and premium office spaces in key cities where Keppel is present.
"Beyond sustaining growth in our businesses, Keppel Land China is also committed to nurture communities wherever we operate. As a global citizen, we believe that as communities thrive, we thrive. As such, we strive to give back to communities through our multi-faceted approach towards corporate social responsibility."
Growing with China
Keppel Land China is a wholly-owned subsidiary of Singapore-based Keppel Land, which is the property arm of the Keppel Group. Keppel Land China is focused on developing township, residential, waterfront, commercial and mixed-use developments in China.
Over the years, Keppel Land has been expanding its footprint in China to over 10 cities. To date, the company has more than 30 projects and has a total GFA of 7.7 million sm, which translates to over 43,000 homes.
In 1994, the Keppel Group led the Singaporean consortium in the launch of the landmark Suzhou Industrial Park project, a landmark project between the Chinese and Singaporean governments. Keppel introduced its Singapore experience and knowledge of urban construction into the planning and development of the Suzhou Industrial Park, helping to lay a solid foundation for its sustainable economic and environmental development.
In 1998, Keppel Land partnered the Kunming municipal government and embarked on the Spring City Golf & Lake Resort (Spring City) project, which has continued to maintain its repute as an international award-winning resort that has put Kunming and China on the world map as a coveted golfing destination. In 2010, Spring City was awarded the globally-recognised Audubon International Classic Sanctuary accolade for its efforts towards environmental sustainability.
In 2007, the Keppel Group was entrusted to lead the Singapore private sector consortium for another landmark bilateral cooperation project, the Sino-Singapore Tianjin Eco-City (Tianjin Eco-City). Keppel Land China is an investor as well as developer cum project manager for the Keppel Group development in the Start-Up Area within the Tianjin Eco-City.
Towards a sustainable future
Keppel Land China is committed to delivering value to all its stakeholders through Sustaining Growth in its businesses, Empowering Lives of people and Nurturing Communities wherever it operates.
The Company is committed to achieving high standards of corporate governance and transparency to ensure the sustainability of its businesses as well as safeguard shareholders' interests.
Keppel Land China takes a proactive approach towards environmental management and protection to create a sustainable future. The Company is committed to achieve the minimum Green Mark Gold Award by the Building and Construction Authority of Singapore or its equivalent for all its properties in China. Keppel Land China's environmental management system is also in accordance with the international ISO 14001 requirements.
At Keppel Land China, safety is of upmost priority. The Company has set a goal of ensuring accident-free construction sites for all its properties across China. It is also one of the first developers to initiate a "Health and Safety Initiatives" programme so as to eliminate potential risks and hazards at construction sites. The Company is also committed to ensure the effective implementation of the OHSAS18001 work protection management system at all its work sites.
As a responsible corporate citizen, Keppel Land China has been constantly making efforts to contribute to the community. For instance, Spring City has been supporting and sponsoring foreign volunteer doctors in providing healthcare services to local villagers under the Bless China International's healthcare initiative. Under the initiative, Spring City partners a group of Singaporean doctors and nurses on a voluntary medical mission to perform cataract surgery for villagers who cannot afford or are too weak to travel for treatment.
About the Award
The "Top 10 ASEAN Companies in China" award is based on a poll conducted amongst the Chinese Ambassadors to the various ASEAN countries.
Corporations are judged based on the companies' scale of investment as well as its economic and social contributions to China.
The award is organised by the CABC, which aims to promote China-ASEAN trade and economic cooperation. Today, ASEAN is China's third largest trading partner after the European Union and the United States. According to China-ASEAN Business Council, bilateral trade between the two economies was valued at US$400 billion in 2012.