Newsroom
05 Feb 2015
Keppel Land China listed amongst Top 10 ASEAN Companies in China by China-ASEAN Business Council
Singapore / Beijing, China, 5 February 2015 ——Keppel Land China Limited (Keppel Land China) has been conferred the Top 10 ASEAN Companies in China award by the China-ASEAN Business Council (CABC) in a ceremony held in Beijing today. This is the third consecutive year that Keppel Land China has been recognised for its economic and social contributions to the local Chinese communities.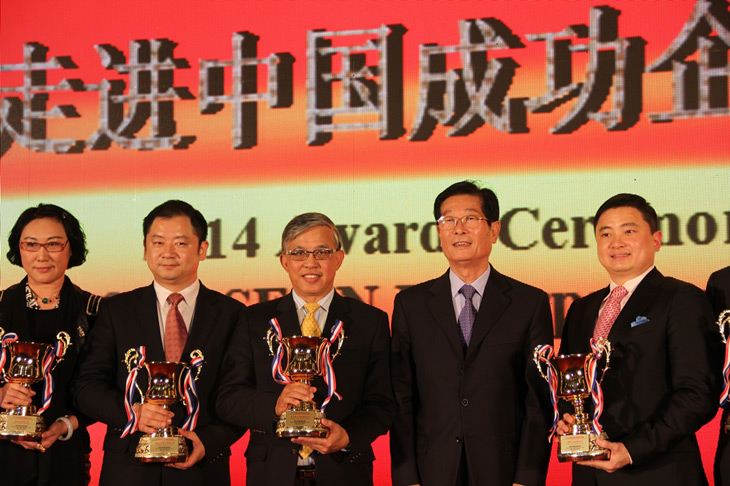 The award ceremony took place in the presence of Mr Liu Guchang, former Chinese Vice Foreign Minister and Chairman of China Foundation for International Studies, Mr Ge Zhirong, Counsellor of State Council and President of the China Entry-Exit Inspection and Quarantine Association, Mr Xu Ningning, Executive Secretary-General of China-ASEAN Business Council, and ambassadors to China from all 10 ASEAN countries.
Receiving the award on behalf of Keppel Land China was Mr Ho Cheok Kong, President of Keppel Land China, who said, "Keppel Land was one of the first foreign property developers to enter China in the early 90's. Over the years, we have been privileged to play a part in China's urbanisation. Today, China is one of Keppel Land's core markets and our portfolio of award-winning residential, commercial, waterfront and lifestyle developments across 10 Chinese cities is distinguished for its quality and thoughtful innovations.
"We are confident that Keppel Land is well-poised to continue to grow with China as we deepen our presence in our five focus cities of Shanghai, Beijing, Tianjin, Chengdu and Wuxi, where we have built our presence and strong local teams."
"Beyond sustaining growth in our businesses, Keppel Land China is also committed to engage and nurture communities wherever we operate."
The CABC consists of the China Council for the Promotion of International Trade, the ASEAN Chamber of Commerce and Industry, as well as esteemed business leaders, entrepreneurs and experts from ASEAN member states. It is also one of the five working-level dialogue and cooperation platforms between China and ASEAN. The judging panel comprises the CABC, relevant government authorities and Economic and Commercial Offices of the 10 ASEAN embassies in China, as well as representatives from relevant business councils of China and ASEAN. The selection of the "Top 10 ASEAN Companies in China" was based on the companies' scale of investments, their development progress in China and contributions to the Chinese economy and society.
About Keppel Land China
Keppel Land China is a wholly-owned subsidiary of Keppel Land, the property arm of the Keppel Group.
Keppel Land is one of the largest property companies by total assets on the Singapore Exchange. The company focuses on a two-pronged strategy of property development for sale and property fund management.
One of Asia's premier property developers, Keppel Land is recognised for its sterling portfolio of quality award-winning residential developments and investment-grade commercial properties, as well as high standards of corporate governance and transparency.
Keppel Land China is focused on developing township, residential, waterfront, commercial and mixed-use developments in China. Over the years, the company has expanded its footprint in China to 10 cities. To date, Keppel Land China has over 20 projects and a pipeline of about 36,000 homes.
Scaling up in China

As at end-2014, Keppel Land has a portfolio of assets worth about S$6.3 billion (RMB29.9 billion) in China, comprising more than 20 projects in 10 cities. China remains the largest overseas market for Keppel Land, accounting for about 44% of total assets. The company completed a record 5,100 units in 2014.
In 1992, Keppel Land partnered the Kunming municipal government and embarked on the Spring City Golf & Lake Resort (Spring City) project, which has continued to maintain its reputation as an international award-winning resort that has put Kunming and China on the world map as a coveted golfing destination. In 2010, Spring City was awarded the globally-recognised Audubon International-certified Classic Sanctuary accolade for its efforts towards environmental sustainability. Keppel Land's Eco-City International Country Club was the first in the world to achieve the prestigious Audubon Classic Sanctuary status in 2009.
In 1994, the Keppel Group led the Singaporean consortium in the launch of the China-Singapore Suzhou Industrial Park (Suzhou Industrial Park) project, a landmark bilateral project between the Chinese and Singapore governments. Keppel introduced its Singapore experience and knowledge of urban construction into the planning and development of the Suzhou Industrial Park, helping to lay a solid foundation for its sustainable economic and environmental development.
The Keppel Group was entrusted to lead the Singapore private sector consortium for another landmark bilateral cooperation project, the Sino-Singapore Tianjin Eco-City (Sino-Singapore Eco-City) in 2007. Keppel Land China is an investor as well as developer cum project manager for the Keppel Group development in the Start-Up Area within the Sino-Singapore Eco-City.
Committed to deepening its presence in high-growth cities in China, Keppel Land and China Vanke Co., Ltd (Vanke), China's foremost property developer, entered into a strategic alliance that will see both companies jointly develop properties in China and Singapore in 2013. The first joint venture project in Singapore was for the development of The Glades at Tanah Merah.
Towards a sustainable future

Keppel Land China is committed to delivering value to all its stakeholders through Sustaining Growth in its businesses, Empowering Lives of people and Nurturing Communities wherever it operates.
At the World Economic Forum 2015 in Davos, Switzerland, in January, Keppel Land was ranked 4th worldwide in the esteemed Global 100 Most Sustainable Corporations in the World 2015, up 13 positions from 17th last year, coming up tops among Asian as well as real estate companies globally.
Keppel Land aligns itself with internationally-recognised standards including certifications such as International Organisation for Standardisation (ISO) 9001 on quality management, ISO 14001 on environmental management as well as OHSAS 18001 on occupational health and safety, and is among the few developers in Singapore to have received this triple certification.The company has also rolled out an integrated management system combining the ISO 9001 with the ISO 14001 and OHSAS18001 into a single framework, and also seeks guidance from ISO 26000 on social responsibility and the United Nations Global Compact.
The company has also set the goal of achieving at least the Building and Construction Authority of Singapore's (BCA) Green Mark Gold rating, or its equivalent, for all its new projects overseas. To date, 13 of Keppel Land China's projects have achieved the BCA Green Mark Gold rating.
Safety takes top priority as a Keppel core value and is an integral aspect of Keppel Land's business operations. The company strives to ensure that everyone who comes to work goes home safe by creating a zero-harm workplace. The company has zero tolerance for non-compliance with workplace health and safety regulations.
As a responsible corporate citizen, Keppel Land China aligns its business practices to international benchmarks, including the ISO 26000 Guidelines on Social Responsibility and the United Nations Global Compact's universal principles. As the company's operations take it into the heart of the local communities overseas, it strives to positively impact and contribute back to these communities wherever it operates.
For example, Spring City is a long-term supporter of voluntary doctors and nurses who provide free cataract operations to needy villagers through Bless China International, a non-government organisation. The company also believes in investing and providing opportunities to talented local youths. At Spring City, the Junior Academy Programme provides middle-school students from neighbouring villages the opportunity to pick up golfing as a career. Promising students are selected and trained from young to provide them a chance as a potential professional golfer.
This media release is also available at www.kepcorp.com,www.keppelland.com and www.keppellandchina.com.
Enquiries
Media Relations
Frances Teh
Assistant Manager
Group Corporate Communications
Keppel Corporation Limited
Tel: (65) 6413 6437 / (65) 9842 6853
Email: frances.teh@kepcorp.com
Investor Relations
Ms Serena Toh
General Manager
Investor Relations & Corporate Social Responsibility
Keppel Land Limited
Tel: (65) 6433 7546
Email: serena.toh@keppelland.com