Newsroom
23 Nov 2016
Guangdong's first Customs and Immigration clearance post in a private marina opens in Keppel Cove
Singapore, 23 Nov 2016–The first Customs, Immigration, Quarantine and Port-clearance (CIQP) post in Guangdong which is located in a private marina was opened today in Keppel Cove in a ceremony attended by over 300 government officials and guests. The opening of the CIQP building also marks the launch of the pilot project for direct sailing between Zhongshan City and Macau.
The opening ceremony was graced by Mr Lin Ji, Deputy Secretary-General of People's Provincial Government of Guangdong, Mr Jiao Lansheng, Mayor of People's Municipal Government of Zhongshan and Mr Vong Iao Lek, Director-General of Macau Customs Service, who were accompanied by CEO of Keppel Land Mr Ang Wee Gee and President of Keppel Land China, Mr Ben Lee.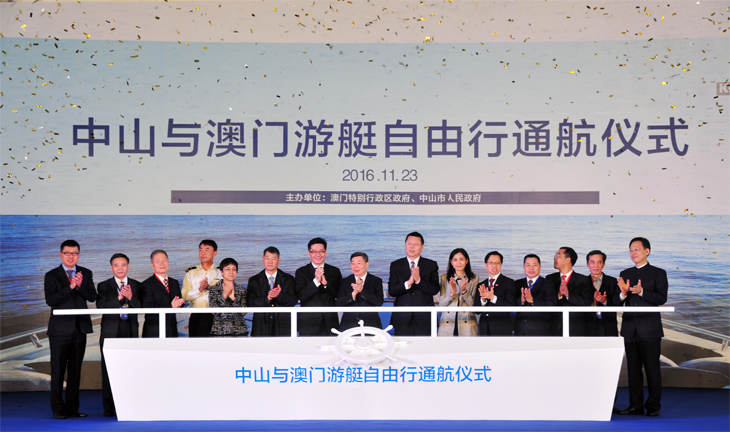 Keppel Cove is a residential cum marina lifestyle development in Zhongshan City by Singapore's premier developer Keppel Land Limited (Keppel Land). The direct CIQP clearance at its private marina is a significant highlight for its home owners, as well as an important milestone in the development of the yachting industry and tourism in the Pearl Delta region.
Mr Ang Wee Gee, CEO of Keppel Land, said, "China is one of Keppel Land's core markets. We are privileged to participate in and contribute to China's growth and urbanisation with integrated and innovative developments such as Keppel Cove. Having the CIQP clearance right at the door step of our marina and with start of direct sailing between Zhongshan and Macau, Keppel Cove will be able to help bring the best in holistic waterfront and urban living to China."
"We are happy to play a part in Guangdong's growth story through promoting the yachting industry and tourism, as well as enhancing connectivity in the Pearl River Delta region."
Keppel Cove, spanning over 890,000 sm, comprises 250 waterfront villas each with a private berth, and the Marina at Keppel Cove which offers an additional 158 berths to serve the yachting community.
The Phase 1 collection of 42 villas has been launched and the marina club house, which will provide diverse lifestyle offerings, is expected to be launched by mid-2017. The Marina at Keppel Cove will be operated by the award-winning team from Marina at Keppel Bay in Singapore, which is the first marina in Southeast Asia to obtain a 5 Gold Anchor rating from the Marina Industries Association of Australia (MIAA).
Strategically located on MoDao Island in the Shenwan Town of Zhongshan City, Guangdong Province, Keppel Cove is just a 45-minute yacht ride from Macau, making it a desirable lifestyle destination between Guangdong, Hong Kong and Macau.
About Keppel Land China
Keppel Land China is a wholly-owned subsidiary of Keppel Land, the property arm of the Keppel Group.
Keppel Land is geographically diversified in Asia, with Singapore and China as its core markets as well as Indonesia and Vietnam as its growth markets.
In China, the company is focused on developing township, residential, waterfront, commercial and mixed-use developments. Keppel Land China has presently over 20 projects with a pipeline of more than 35,000 homes across 10 cities. It has formed a strategic partnership with China Vanke Co., Ltd, China's leading property developer, to jointly develop properties in China and Singapore since 2013.
Keppel Land China is an investor in the landmark government-to-government project, the Sino-Singapore Tianjin Eco-City (Sino-Singapore Eco-City). It also plays the role of the developer and project manager for the Keppel Group's eco-developments in the Sino-Singapore Eco-City.
About Keppel Cove
Keppel Cove is an integrated residential cum marina lifestyle development in the affluent Pearl River Delta (PRD) region of Zhongshan, located on MoDao Island in the Shenwan Town of Zhongshan City, Guangdong Province, China.
Developed by Keppel Land, Keppel Cove is one of the first premium waterfront living precinct in the region, and offers private berthing amenities, leisure facilities and comprehensive marina recreational activities for residents and visitors.
Keppel Cove will comprise over 400 berths, including 250 landed homes with individual private berths and an additional 158 berths for the yachting community. 42 villas of Phase 1 have been launched.
With Shenwan Town's geographical advantage as well as deep cultural heritage and innovative spirit, the local government has proposed to develop the town into an eco-friendly international tourism destination, with yachting industry as its core. It will serve as a signature hallmark for Zhongshan City's tourism industry, boost the coastal economy as well as propel the development of the overall yachting industry in Zhongshan.
Marina at Keppel Cove has strong support from the Zhongshan municipal government and has been listed as a strategic infrastructure project in Guangdong province' s "Twelfth Five-year Plan", as well as a strategic program in Guangdong province' s marine economy development's "Twelfth Five-year Plan".
About Marina at Keppel Cove
Marina at Keppel Cove offers a plethora of facilities and services including yacht berths, boutique hotel stays, yacht rentals and aquatic sports. With its prime geographical location, top-notch facilities and premium marina services, Marina at Keppel Cove has been selected by the Macau and Guangdong governments as the pilot port for an initiative to allow direct sailing between the two areas.
The first Customs, Immigration, Quarantine and Port-clearance (CIQP) building within a private yacht club in Guangdong Province has been established in Marina at Keppel Cove. Members can enjoy one-stop services covering customs clearance, border inspection and quarantine. Leveraging its experience and resources from Singapore, the marina will offer a world-class yachting lifestyle for its members.
Enquiries
Media Relations
Ms Mia Liu
Senior Executive
Group Corporate Communications
Keppel Corporation Limited
Tel: (65) 6413 5580 / 9618 4656
Email: mia.liu@kepcorp.com
Investor Relations
Ms Ivana Chua
Assistant General Manager
Group Corporate Communications
Keppel Corporation Limited
Tel: (65) 6413 6436
Email: ivana.chua@kepcorp.com