Newsroom
26 Jun 2017
Keppel Land China and Alpha in JV to acquire stake in mixed-use development in Shanghai for US$525 million
26 June 2017, Singapore – Keppel Land China Limited (Keppel Land China), a wholly-owned subsidiary of Keppel Land Limited (Keppel Land), and Alpha Investment Partners Limited (Alpha), a wholly-owned subsidiary of Keppel Capital Holdings Pte. Ltd., together with a co-investor, are partnering to acquire an office and retail mixed-used development, SOHO Hongkou (虹口SOHO), in Shanghai, China, for approximately US$525 million.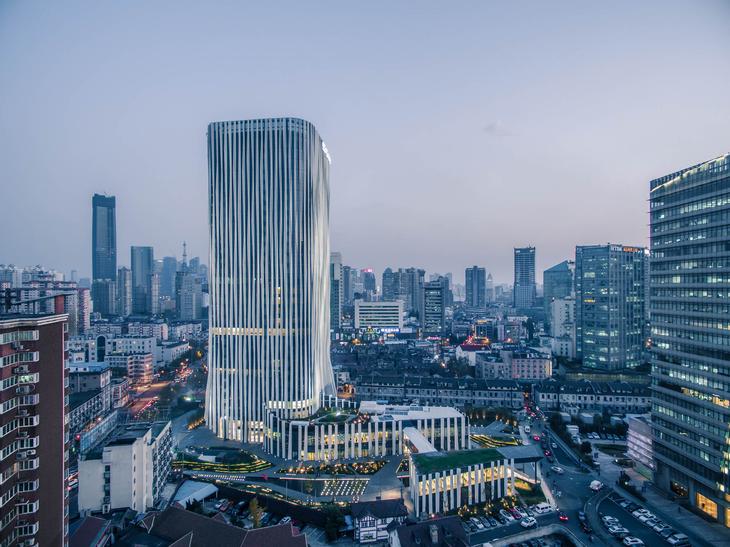 Keppel Land China, through its wholly-owned subsidiary, Joysville Investment Pte Ltd, has entered into a joint venture agreement to acquire a 30% stake in Vision (III) Pte. Ltd., which holds an indirect 100% stake in SOHO Hongkou, located in Hongkou District. Alpha's Alpha Asia Macro Trends Fund (AAMTF) III will hold a 40% stake and the remaining 30% stake will be held by its co-investor.
Mr Ang Wee Gee (洪伟义), CEO of Keppel Land and Chairman of Keppel Land China, said, "This is the second time that Keppel Land China and Alpha are harnessing strengths across the Keppel Group and collaborating to acquire a premium property in a strategic location in Shanghai, after Life Hub @ Jinqiao. This acquisition is also in line with our strategy to scale up in high‐growth cities, such as Shanghai, where Keppel Land China has established a firm foothold."
"We are confident about the opportunities in the commercial property market in Shanghai, one of China's key gateway cities. Leveraging the synergistic business models of Keppel Land China and Alpha, we believe that the latest acquisition of the mixed-use development, SOHO Hongkou, will further augment Keppel Land's commercial portfolio as well as position us well to meet the growing demand for Grade A offices in the city."
Ms Christina Tan (陈华美), CEO of Keppel Capital and Managing Director of Alpha, added, "Being the financial and commercial hub of China, Shanghai has seen the need for more high quality and well-located developments in the city. We are confident that Alpha's AAMTFIII is well-positioned to capture opportunities in this fast-growing market that is driven by sustainable urbanisation trends.
"The strategic partnership between Alpha and Keppel Land China is also testament to our commitment to grow our asset management business and achieve the best returns for our investors. In keeping with our disciplined investment approach, we will undertake the appropriate value-adding efforts that will not only preserve, but enhance the value of the asset over the long term."
In September 2016, Keppel Land China and Alpha divested a mixed-use development, Life Hub @ Jinqiao, in Shanghai and achieved an internal rate of return of over 20%. Since the acquisition of the property in 2013, proactive asset management and innovative enhancement efforts have seen the property maintain consistently high occupancy levels with a good mix of international and local retailers.
The mixed-use development, SOHO Hongkou, offers a total leasable area (GLA) of 70,042 sm, which comprises 65,304 sm and 4,738 sm of office and retail space respectively. Completed in 4Q 2015, it has a high occupancy rate of 97% as of March 2017, with tenants including Panasonic and China Pacific Insurance.
SOHO Hongkou is strategically located in the North Sichuan Road fringe central business district (CBD), and within walking distance to the North Sichuan Road (Line 10) and the Hailun Road interchange metro stations (Lines 4 and 10). It is also well-connected by roads, tunnels and bridges to the CBDs in Pudong and Puxi, which are a 10 minute drive away. The Beiheng Tunnel, which will be the city's longest east-west link road when completed in early 2020, will further enhance the overall connectivity of the North Sichuan Road fringe CBD and link SOHO Hongkou to Yangpu in the east and Hongqiao Transportation Hub in the west.
Designed by leading architect Kengo Kuma, SOHO Hongkou boasts an eye-catching structure and façade. A sustainable development, the building is certified Gold under the United States' Leadership in Energy and Environmental Design (LEED) Gold standards, and offers one of the best office specifications in the North Sichuan Road fringe CBD.
The abovementioned transaction is not expected to have any material impact on the earnings per share and net tangible assets per share of Keppel Corporation Limited for the current financial year.
Description of the property
Property name
SOHO Hongkou (虹口SOHO)
Description
Comprises one 29-storey office tower and a 2-storey retail podium
Total Leasable Area (GLA)
70,042 sm


Office: 65,304 sm
Retail: 4,738 sm

Location
Located in the North Sichuan Road fringe CBD, the traditional shopping street in Hongkou district, Shanghai.
It is 200m from the North Sichuan Road metro station (Line 10) and 550m from the Hailun Road interchange
metro station (Lines 4 and 10) and close to key destinations:

10 mins from Lujiazui Financial District
10 mins from People's Square in Puxi
7 mins from the emerging North Bund CBD, the shipping and trade centre of Shanghai
About Keppel Land China
Keppel Land China is a wholly-owned subsidiary of Keppel Land, the property arm of the Keppel Group.
Keppel Land is geographically diversified in Asia, with Singapore and China as its core markets as well as Indonesia and Vietnam as its growth markets.
Keppel Land China is focused on developing township, residential, waterfront, commercial and mixed-use developments in China. Over the years, the company has expanded its footprint in China to 10 cities. To date, Keppel Land China has over 20 projects with a pipeline of about 33,000 homes. It has formed a strategic partnership with China Vanke Co., Ltd, China's leading property developer, to jointly develop properties in China and Singapore since 2013.
Keppel Land China is an investor in the government-to-government project, the Sino-Singapore Tianjin Eco-City (Eco-City). It also plays the role of the developer for the Keppel Group's eco-developments in the Eco-City.
About Alpha Investment Partners
Alpha Investment Partners (Alpha) is a wholly-owned subsidiary of Keppel Capital, a premier asset manager in Asia and the asset management arm of Keppel Corporation Limited.
Alpha has been adding value for investors by constantly seeking innovative solutions throughout its investment process since 2004.
A manager of both private and public real estate funds, Alpha has an institutional investor base comprising renowned pension plans, financial institutions, fund of funds, insurance companies, endowments and family offices spanning Europe, North America, Asia and the Middle East.
Its private closed-end real estate funds are invested across the risk spectrum in the core, core-plus, value-add and opportunistic space. Each fund has a specific lifespan and strategy to leverage prevailing opportunities, as well as seek a blend of income and capital returns according to its risk profile. Alpha also manages the Alpha Real Estate Securities Fund, an open-ended fund that invests in listed REITs and real estate securities predominantly in Asia.
Enquiries
Media Relations
Frances Teh
Manager
Group Corporate Communications
Keppel Corporation Limited
Tel: (65) 6413 6437 / (65) 9842 6853
Email: Frances.Teh@kepcorp.com
Investor Relations
Ivana Chua
Assistant General Manager
Group Corporate Communications
Keppel Corporation Limited
Tel: (65) 6413 6436
Email: ivana.chua@kepcorp.com