The built environment contributes to 40% of global carbon emissions, out of which 30% arise from embodied carbon in construction, and 70% from building operations. While designing and constructing new sustainable buildings help to reduce our future emissions, we also need solutions for the existing older buildings, where efficiencies have likely dwindled.
Retrofitting is a mean to refurbish these existing buildings to make it more efficient and it brings about numerous environmental, commercial, and social benefits, such as avoiding significant embodied carbon emissions associated with new construction, reducing operational carbon through energy efficiency, improving the health and well-being of its occupants, preserving its heritage, and increasing property value.
With the increasing global focus on sustainability, there are concerted efforts to reduce the built environment's carbon footprint. For instance, the Building and Construction Authority of Singapore (BCA) is targeting to have 80% of buildings in Singapore classified as green by 2030. The BCA also recognised that efforts must be made to retrofit old buildings to improve their energy efficiency.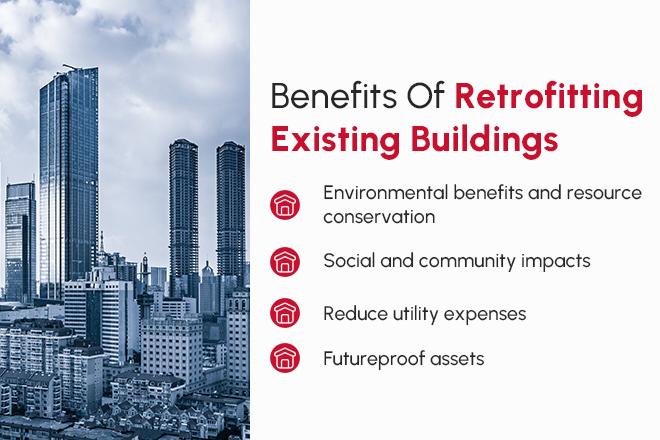 Hence, its Green Mark Incentive Scheme for Existing Buildings targets existing building owners to jumpstart the greening of existing structures in the private sector. For them, undertaking a green retrofit of buildings can bring about numerous benefits for them and their tenants.
Benefit #1: Environmental benefits and resource conservation
Converting existing structures into green, sustainable buildings best exemplifies the adage "reduce, reuse, recycle" in the realm of architecture. For example, as part of the deep retrofitting efforts of Keppel Bay Tower, we implemented a state-of-the-art intelligent building management system (IBMS) to adjust lighting, cooling, and heating based on occupancy patterns. That, along with a portion of the building's energy consumption being supplied by the photovoltaic (PV) panel system, has enabled us to reduce Keppel Bay Tower's annual energy consumption to half that of a typical office building in Singapore.
Benefit #2: Social and community impacts
Beyond environmental aspects, sustainability also encompasses the potential to enhance the quality of life for those who dwell within these retrofitted spaces. Besides, tenants today are now more environmentally conscious than before and prefer to work, live, and play in green and healthy buildings.
Retrofitting older buildings can lead to improved air quality, better insulation, and enhanced natural lighting, contributing to a healthier, more comfortable living and working environment, thus positively impacting the well-being of occupants. That creates a strong differentiator for building owners, making an existing property more attractive to current and potential tenants.
Benefit #3: Reduce utility expenses
Older buildings often operate on systems which are less energy efficient. Retrofitting allows for the implementation of newer technologies that can reduce operating and utility costs – energy-efficient cooling systems, improved insulation, and smart LED lighting are a few examples of the sustainability solutions available to building owners.
Benefit #4: Futureproof assets
Adaptability is vital in a rapidly changing business environment. Transforming an existing building into a green one with state-of-the-art technologies and sustainable features ensures that the asset remains attractive and relevant in the years to come. Building owners can rest easy knowing that their property can maintain its long-term value while accommodating the evolving needs of their tenants, providing them with lower operating costs and environmental benefits.
Innovative strategies to retrofit existing buildings
The retrofitting of an existing building involves extensive planning, and the process must be carefully thought out to ensure that objectives are met while minimising disruptions to ongoing operations. Keppel Bay Tower – the first BCA Green Mark Platinum Zero Energy commercial building in Singapore – is an example of how various strategies can be deployed to obtain optimal business and sustainable outcomes.
Learn More: Keppel Bay Tower: Singapore's First Green Mark Platinum (Zero Energy) Commercial Building
Strategy #1: Renewable energy sources
At Keppel Bay Tower, a portion of the building's energy consumption is supplied by the PV Panel System, which generates around 100,000 kWh of energy annually. The solar panel installation, along with the purchase of renewable energy, has resulted in a reduction of over 2,400 tonnes of carbon emissions per annum.
Strategy #2: Energy-efficient technologies
Beyond the implementation of renewable energy, building owners can seek alternate ways to reduce the energy consumption of their properties through energy-efficient technologies. In the case of Keppel Bay Tower, the building's existing infrastructure was overhauled with the aim of lowering the building's energy consumption levels.
For the air distribution system, we implemented energy-efficient components to the building's existing air handling unit (AHU) applications. After the integration, we discovered that the new solution operated at lower noise levels (3-17%) while being 45% more energy-efficient than other best-in-class technologies.
Another energy-efficient feature of our green building is the installation of a smart lighting system, which utilises occupancy sensors to allow seamless transition (dimming) in lighting levels according to building occupancy. After 12 months, the system has significantly achieved a 13.4% energy reduction, from best-in-class (LED) levels.
As for the building's cooling tower water management system, we replaced the chemical treatment method that is commonly used in the cooling water process with a patented solution that reduces cooling tower water usage by 80% and eliminates the need for chemical water treatment.
With the adoption of these energy-efficient technologies, Keppel Bay Tower achieved energy savings of over 30% (2.2 million kWh per annum) as compared to pre-retrofit conditions. This figure is equivalent to the amount of energy required to power more than 400 five-room HDB flats in Singapore for a year!
Strategy #3: Intelligent building control system
Thanks to modern technology, the way we interact with our surroundings has changed. Automation is now a significant part of building maintenance, and such technologies can also be leveraged for sustainability efforts, allowing building owners to monitor and control various aspects of their green buildings.
An example of this is Keppel Bay Tower's Intelligent Building Control (IBC) system and Fresh Air Intake Control system. Through live data obtained from the Fresh Air Intake Control system, which is fed into the IBC system to derive the ideal balance between air quality, energy consumption, and thermal comfort, we are able to regulate fresh air intake according to indoor activities and optimise energy usage for better thermal comfort and indoor environmental quality. As a result, Keppel Bay Tower achieved a 12% reduction in cooling energy consumption while continuing to maintain a conducive environment for tenants.
Keppel's Sustainable Urban Renewal (SUR) initiative offer extensive asset enhancement and sustainability solutioning, complemented by a wide range of enterprise solutions to enhance the workplace experience. Contact us today to learn about our suite of curated sustainable and smart solutions for building decarbonisation and transformation, or if you are interested in leasing a green office space.