Newsroom
12 Aug 2022
Keppel Land Vietnam named one of Asia's best employers for third year running
Ho Chi Minh City, 12 August 2022 – Keppel Land has been recognised as one of the "Best Companies to Work for in Asia 2022 – Vietnam Region" by HR Asia Magazine, a leading publication for senior HR professionals in Asia. This is the third consecutive year that the company has received the award.
The award recognises companies that have the best HR practices, demonstrate high levels of employee engagement and possess excellent workplace culture. It covers various markets across Asia, including China, India, Indonesia, Malaysia, Singapore and South Korea.
Mr Joseph Low, President (Vietnam) of Keppel Land, said, "We are heartened that Keppel Land has been named one of Vietnam's best companies to work for by HR Asia Magazine. As a pioneer and one of the largest foreign real estate investors in Vietnam, Keppel Land strives to build a purpose-driven organisation, developing and engaging our workforce to drive the company's growth, as well as create value for our stakeholders.
"We seek to attract and build a deep talent pool by offering myriad learning and development opportunities, building bench strength with good succession planning, growing new capabilities as well as giving back to our communities. Our continuous efforts have not only helped to create a conducive work environment at Keppel Land Vietnam but also imbued a sense of belonging among our employees, motivating them to give their best."
This year, 120 award winners were selected from a pool of 622 shortlisted nominees from various industries. The selection was based on the results of an independent survey, where employees evaluated the companies based on the Total Engagement Assessment Model, HR Asia's proprietary employee engagement survey, with criteria including working environment, employee engagement and teamwork.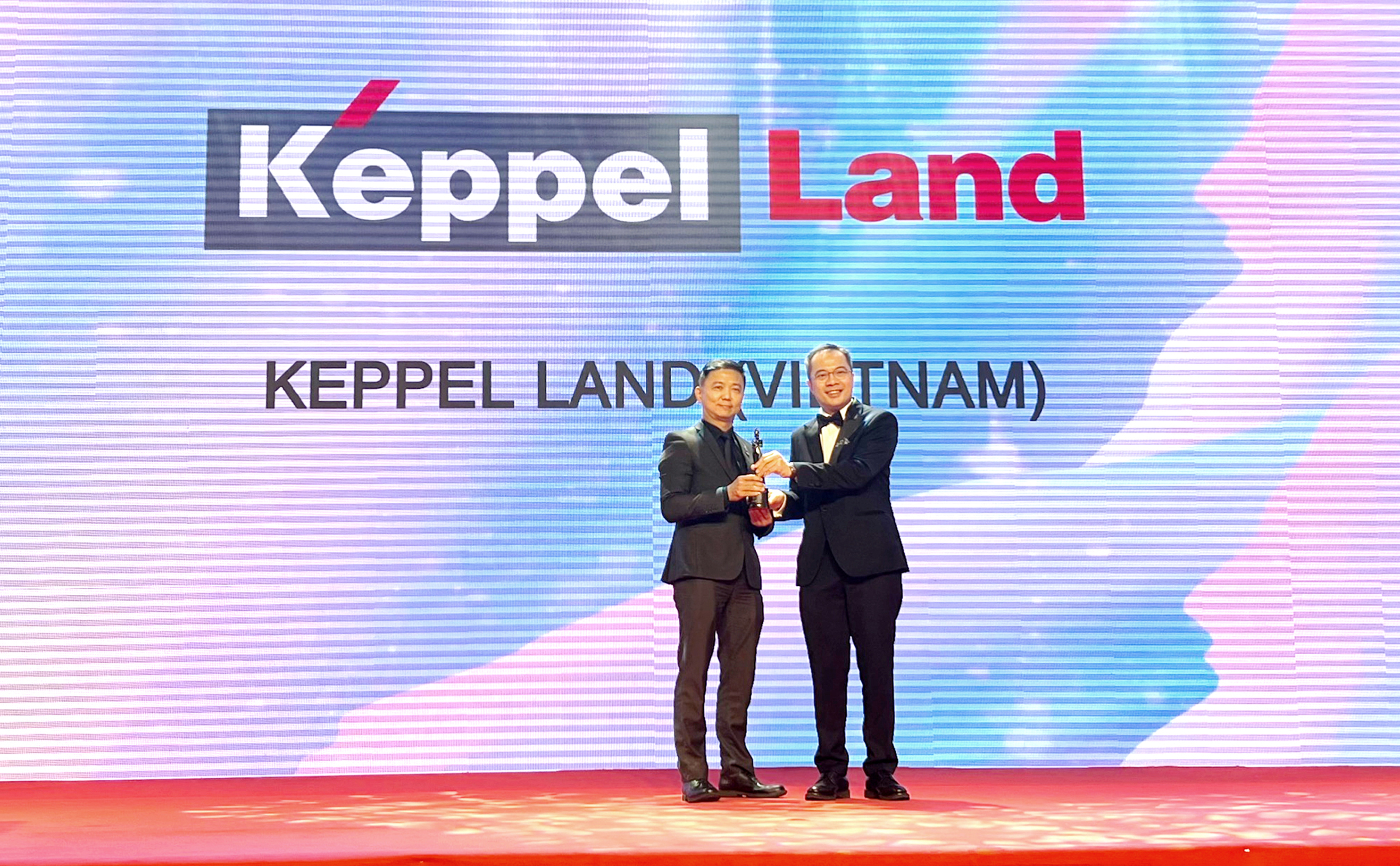 Mr Lim Kay Siong (left), Head of Human Resources of Keppel Land Vietnam, received the "Best Companies to Work for in Asia 2022 – Vietnam Region" award on behalf of Keppel Land Vietnam.
About Keppel Land
Keppel Land is a wholly-owned subsidiary of Keppel Corporation, a Singapore flagship multinational company, which provides solutions for sustainable urbanisation, focusing on energy & environment, urban development, connectivity and asset management.
Keppel Land delivers innovative and multi-faceted urban space solutions that enrich people and communities. Its sterling portfolio includes award-winning residential developments, investment-grade commercial properties and integrated townships. It is geographically diversified in Asia, with China, Singapore and Vietnam as its key markets, while it continues to scale up in other markets such as India and Indonesia.
In Vietnam, Keppel Land is a pioneer and one of the largest foreign real estate investors with a quality portfolio mainly in Ho Chi Minh City, including Grade A offices, residential properties, retail malls, integrated townships and award-winning serviced apartments.
For further information, please contact:
Media Relations
Trang Le (Ms)
Manager, Marketing & Communications Keppel Land (Vietnam)
MB: 0903 918 929
Email: tranglt@kepland.com.vn