Newsroom
23 Nov 2015
Keppel Land Watco appoints Hoa Binh as the main contractor for Saigon Centre Phase Two office development
Keppel Land Watco Company Limited (Keppel Land Watco), the Keppel Land-led joint venture company behind the iconic Saigon Centre in Ho Chi Minh City (HCMC), has awarded the main contract for the construction of the 37-storey office tower of Saigon Centre Phase Two, valued at VND 1.7 trillion (approximately US$77.5 million), to leading Vietnamese builder, Hoa Binh Construction and Real Estate Company (Hoa Binh).
Meanwhile, Saigon Centre's retail podium, which is currently under construction, is progressing well for completion in the second half of 2016. The retail podium has achieved a pre-commitment of about 90% with anchor tenant, Takashimaya, taking up about 15,000 sm of retail space.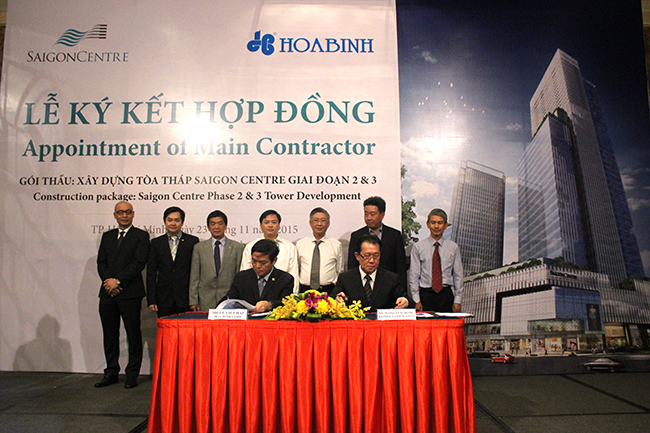 When fully completed in end-2017, Saigon Centre Phase Two will comprise 40,000 sm of premium Grade A office space, seven levels of 50,000 sm retail space and about 200 units of luxury serviced apartments.
Mr Linson Lim, President, Keppel Land (Vietnam), said, "With its proven track record in Vietnam over the last 28 years, we have confidence in Hoa Binh's ability to deliver Saigon Centre Phase Two on time and with high quality standards. Residents and shoppers can look forward to the completion of the retail podium next year. With the diverse range of shopping, dining and leisure options including international renowned brand names new to Vietnam, Saigon Centre is poised to be the shopping and lifestyle destination in HCMC."
Keppel Land is also partnering Hoa Binh for its latest residential development, Estella Heights. Mr Truong Quang Nhat, Deputy General Director, Hoa Binh, added, "As a local enterprise, Hoa Binh is very proud to to have won this international tender. We are encouraged by the trust of Keppel Land Watco in appointing us as the main contractor for Saigon Centre Phase Two and look forward to a fruitful partnership with our international partners."
Strategically located along Le Loi Boulevard in the heart of HCMC's central business district in District 1, Phase One of Saigon Centre is the preferred business address of many diplomatic corps, multinational corporations as well as banking and financial institutions.
Phase Two of Saigon Centre was conferred the Green Mark Gold (Provisional) Award by the Building and Construction Authority of Singapore in 2012. The project was also named The Best Commercial Project and The Best Retail Project at the Vietnam Property Awards 2015. Keppel Land was also recently named Vietnam's Best Office/ Business Developer at the Euromoney Real Estate Awards 2015, an accolade it has held for three consecutive years.