Newsroom
22 Sep 2015
Keppel Land and Royal Philips extend partnership for energy-efficient LED lighting retrofit programme to Vietnam
Existing conventional lightings at Saigon Centre in Ho Chi Minh City (HCMC) will be replaced with light-emitting diode (LED) lighting under a zero capital expenditure (capex) initiative.
Keppel Land WATCO, a Keppel Land-led joint venture company behind Saigon Centre has entered into an agreement with The Vietnam subsidiary of world leader Philips Lighting, to retrofit the lighting system of Saigon Centre Phase 1, a mixed-use development located in District 1 in HCMC on a zero capex scheme to reduce energy consumption. This is the first such initiative in Vietnam and follows a similar agreement signed between Keppel Land and Philips in Singapore a year ago.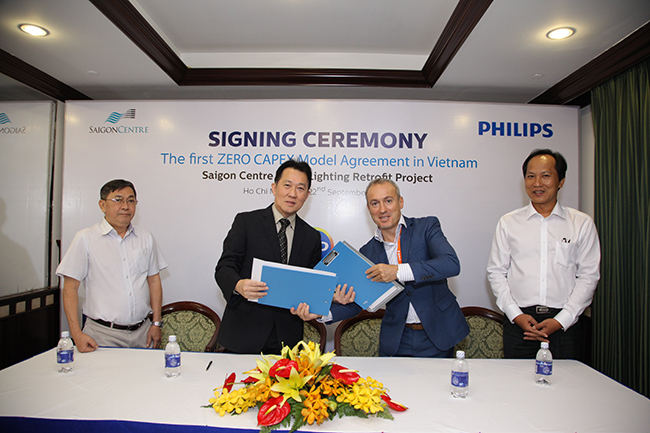 Under the zero capex scheme, Keppel Land and its joint venture partners will upgrade its current conventional lighting system in the common areas of Saigon Centre Phase 1 to LED lighting with no upfront capital investment required. Payment will be made via installments using the savings from reduced energy consumption achieved through the operation of the new Philips LED lighting system.
Several thousands of LED fixtures of different kinds including GreenSpace downlight, Square Mainstream Spot LED, Master LEDbulb and Master LEDtube will be used to replace the conventional fluorescent and halogen lamps installed in the building.
Thanks to the high quality of Philips LED luminaires, the 30 office tenants at Saigon Centre can expect a new lighting experience with improved visual comfort. The LED lights will have longer lifespans of up to 50,000 hours or over 10 years, and will save approximately 50% more energy compared with the current lighting solutions, which is equivalent to about US$34,000 per annum.
Mr Eric Benedetti, General Manager of Philips Lighting Vietnam, said, "It is natural for our pioneering cooperation to come to life in Vietnam as Philips and Keppel Land have already had a long-term partnership which we take much pride in. With the zero capex cooperation model, Philips will be able to help Keppel Land and property owners to apply the most innovative lighting technology without any concern of paying the investment cost upfront."
The dynamic deployment of innovative LED solutions in its premises is part of Keppel Land's commitment to engage and promote green practices among tenants. Mr Linson Lim, President, Keppel Land (Vietnam), said, "As a responsible green developer, we are committed to design, build and operate properties that are in harmony with the environment and enhance the quality of life of the communities where we operate.
"This agreement with Philips is a stride forward in our green journey here as we do our part to reduce our carbon footprint. The zero capex model not only allows us to acquire a new lighting system without any upfront costs, we will also be able to achieve long term savings from reduced energy consumption and operating costs."
By launching the zero capex cooperation, Philips Lighting Vietnam is offering attractive cooperation opportunities to reputable local businesses with great demand for lighting retrofits at their office buildings, serviced apartments, shopping centres, textile factories, leather factories and electronics factories. These businesses can make use of the most sustainable LED lighting solutions to maximize business efficiency and productivity, improve competitiveness and enhance corporate image without budgeting substantially initial investment for the project.