Newsroom
02 Mar 2016
Keppel Land in joint venture to develop prime waterfront site in Ho Chi Minh City's Thu Thiem New Urban Area
Singapore, 2 March 2016 – Keppel Land Limited (Keppel Land) has entered into a conditional investment agreement to subscribe a 40% equity interest in Empire City Limited Liability Company (Empire City) for a total consideration of US$93.9 million (approximately S$131.6 million).
The other joint venture partners in Empire City include Vietnamese companies Tien Phuoc Real Estate Joint Stock Company (Tien Phuoc) and Tran Thai Real Estate Co. Ltd (Tran Thai), as well as Hong Kong-based real estate private equity fund Gaw Capital Partners.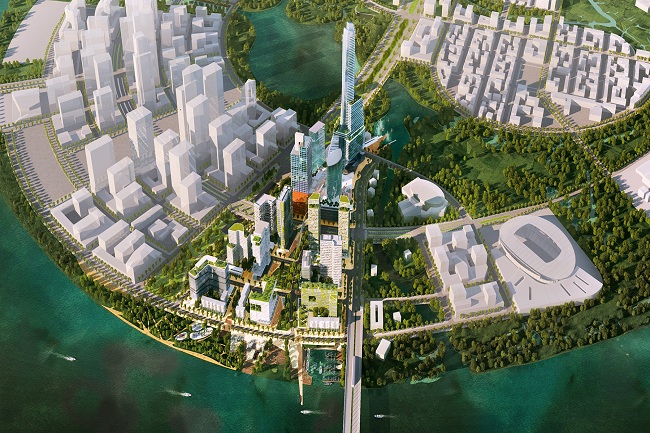 Keppel Land and its partners will jointly develop a prime 14.6-hectare waterfront site in the Thu Thiem New Urban Area, located in District 2 of Ho Chi Minh City (HCMC), Vietnam.The planned development will comprise premium residential apartments, office and retail properties as well as an 86-storey integrated mixed-use tower complex.
Mr Ang Wee Gee, CEO of Keppel Land, said, "As one of the largest and pioneer foreign real estate investors in Vietnam, Keppel Land has been privileged to play a part in Vietnam's urbanisation over the years. Today, Vietnam, especially the fast-growing HCMC, is one of Keppel Land's key growth markets."
"We are very excited to participate in the growth of the up-and-coming Thu Thiem New Urban Area, which is poised to become the future central business district of HCMC. Our planned projects will bring the best in waterfront and urban lifestyles to HCMC, as well as augment Keppel Land's quality portfolio of prime residential and commercial properties in the city."
Overlooking the Saigon River and the current central business district of HCMC, Thu Thiem New Urban Area is planned to be developed into the largest economic, commercial and financial centre of HCMC, offering cultural, entertainment and recreational activities. With the completion of the East-West Highway and the Thu Thiem Tunnel, it now takes only five minutes to drive from the waterfront site to the central business district.
Based on the latest market reports, Vietnam's macroeconomic conditions continue to improve, supported by high gross domestic product growth, low inflation and high consumer spending. The country's participation in the Trans Pacific Partnership as well as the ASEAN Economic Community will also spur foreign direct investments in the real estate sector. In addition, the recent relaxation of the Housing Law and Real Estate Business Law, improvements in public infrastructure, growing middle class as well as high urbanisation rate will continue to drive the demand for quality homes and investment-grade offices.
Tien Phuoc and Tran Thai are Keppel Land's current joint venture partners for various projects in HCMC. Together with Tien Phuoc, Keppel Land had successfully completed and sold out The Estella residential project and is currently developing Estella Heights, which has seen a strong take-up since it was launched, with more than 670 units sold to date. Keppel Land, Tien Phuoc and Tran Thai are also currently developing the South Rach Chiec township development which is slated for launch later this year. Gaw Capital Partners is an international real estate private equity firm, with assets under management of over US$10 billion, invested in multiple asset classes in Asia, US and Europe.
Keppel Land is also progressing with the Saigon Centre Phase Two development in HCMC, which will comprise 40,000 sm of premium Grade A office space, 50,000 sm retail space and about 200 units of luxury serviced apartments when completed. The retail mall, planned to open in 3Q 2016, is fully committed, with Takashimaya as the anchor tenant.
The above transaction is expected to be completed by the second quarter of 2016 and is not expected to have any material impact on the net tangible assets or earnings per share of Keppel Corporation Limited for the current financial year.
-End-
About Keppel Land Limited
One of Asia's premier property companies, Keppel Land, a subsidiary of Keppel Corporation Limited, is recognised for its sterling portfolio of award-winning residential developments and investment-grade commercial properties as well as high standards of corporate governance and transparency.
The Company is geographically diversified in Asia, with Singapore and China as its core markets as well as Indonesia and Vietnam as its growth markets. It focuses on a two-pronged strategy of property development for sale and property fund management.
In Vietnam, Keppel Land is one of the pioneer and largest foreign real estate investors with a diverse portfolio of properties in Hanoi, Ho Chi Minh City, Dong Nai and Vung Tau including Grade A offices, residential properties, integrated townships and award-winning serviced apartments.
With 19 licensed projects across Vietnam and a pipeline of about 22,000 homes, Keppel Land is establishing itself as the choice developer, distinguished by quality and innovative lifestyle concepts.
For further information, please contact:
Ms. Dinh Thi Bao Minh
Senior Marketing Communications Manager
Keppel Land Vietnam
Mobile: 0934 181 202
Email: minhdtb@kepland.com.vn