Newsroom
01 Jul 2022
Keppel Land launches green sculpture competition and exhibition to promote environmental protection
Ho Chi Minh City, 1 July 2022 – Keppel Land is pleased to announce the launch of its Green Sculpture Competition and Exhibition at Estella Place in Thu Duc City today. Organised in support of the Plastic Free July global movement and in conjunction with Keppel Land Vietnam's 30th anniversary celebrations, the initiative seeks to highlight the importance of environmental protection and promote climate action through the creation of unique sculptural artworks from recycled materials.
The launch event was officiated by Ms Nguyen Thi Thanh My, Deputy Director of Ho Chi Minh City Department of Natural Resources and Environment, and Ms Van Minh Hoa, Vice President and General Secretary of Ho Chi Minh City Association for Conservation of Nature and Environment, who were joined by Mr Joseph Low, President (Vietnam) of Keppel Land.
Participants of the Green Sculpture Competition were tasked to create sculptural artworks with recycled materials, including plastic waste, based on the themes of plastic pollution and environmental protection. The competition received close to 60 submissions from more than 100 students and members of the public. Many of the participants are budding young talents from across the country, including university students specialising in creative arts and design.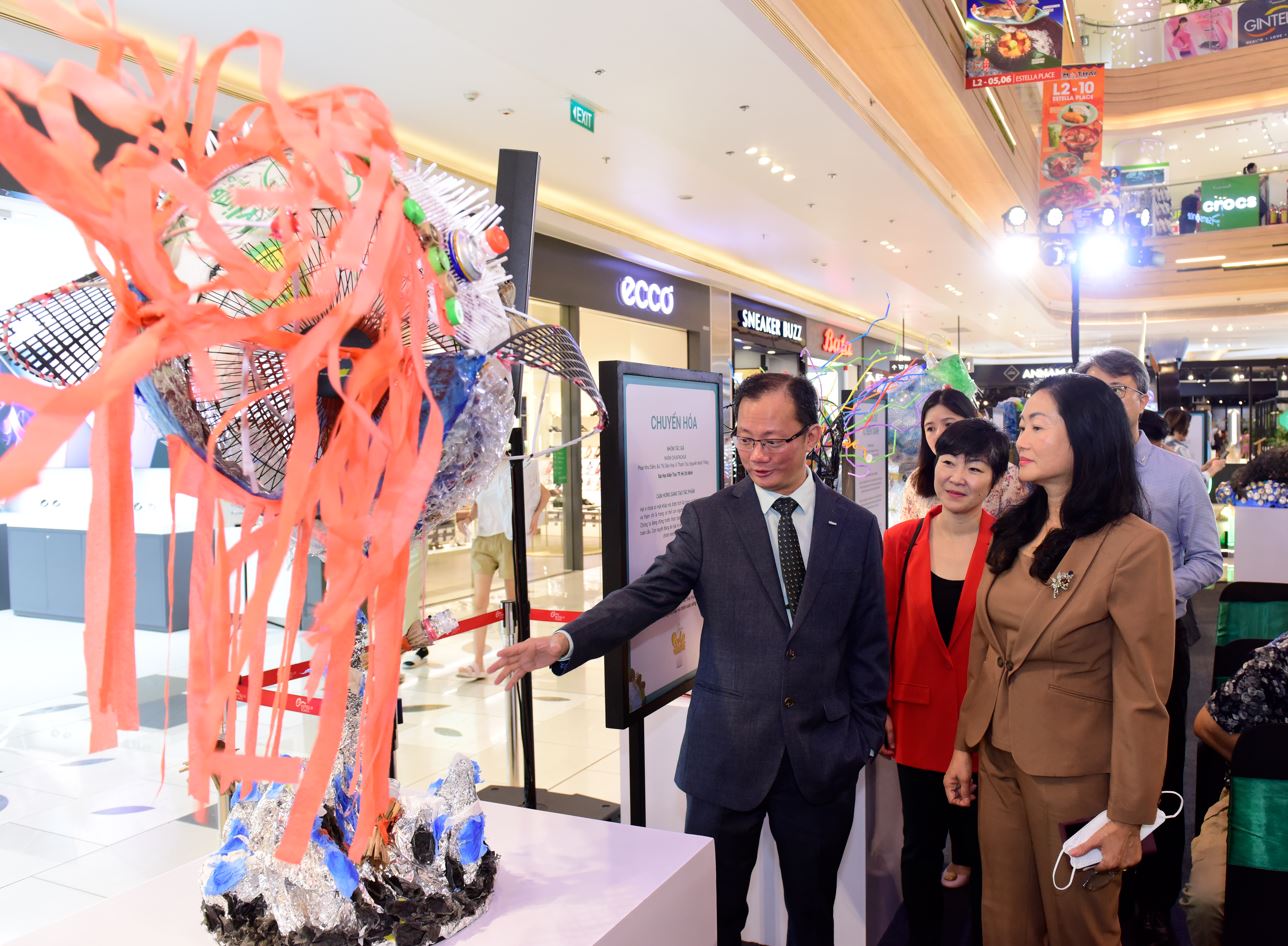 Mr Joseph Low (first from left), President (Vietnam) of Keppel Land, briefing Ms Nguyen Thi Thanh My (first from right), Deputy Director of Ho Chi Minh City Department of Natural Resources and Environment, on the green sculptures on display at Estella Place.
Mr Low said, "In line with Keppel's Vision 2030, Keppel Land has placed sustainability at the core of our strategy. Our proactive and holistic approach towards sustainability includes organising eco-conscious initiatives such as the Green Sculpture Competition and Exhibition, where we seek to raise awareness of environmental protection.
"These evocative artworks, made creatively with recycled materials, remind us to shift from the traditional linear 'take-make-dispose' economy to a more circular and sustainable solution. Through public outreach efforts such as this, we seek to encourage our stakeholders to join us in building a more sustainable future."
Ms Nguyen Thi Thanh My said, "I would like to express my appreciation to Keppel Land Vietnam for its efforts in organising the Green Sculpture Competition and Exhibition, and contributions towards environmental protection and combatting climate change. These initiatives will raise public awareness and promote the reduction of domestic solid waste. This is in line with the sustainable development goals of Ho Chi Minh City, as well as of Vietnam and the world."
Twelve shortlisted artworks are currently on public display at an exhibition at the Estella Place, a shopping mall by Keppel Land which features myriad retail, lifestyle, educational as well as recreational offerings. The exhibition, which takes place from 1 to 7 July 2022, is jointly organised by Keppel Land, Starbucks, Kingsmen and Estella Place. A panel of judges will select the top three winners from among the shortlisted artworks, with the results of the competition announced at an award ceremony on 7 July 2022. A replica of the winning sculpture will be constructed using residual building materials and installed at Saigon Sports City, a smart and sustainable integrated township developed by Keppel Land and Keppel Urban Solutions in Ho Chi Minh City.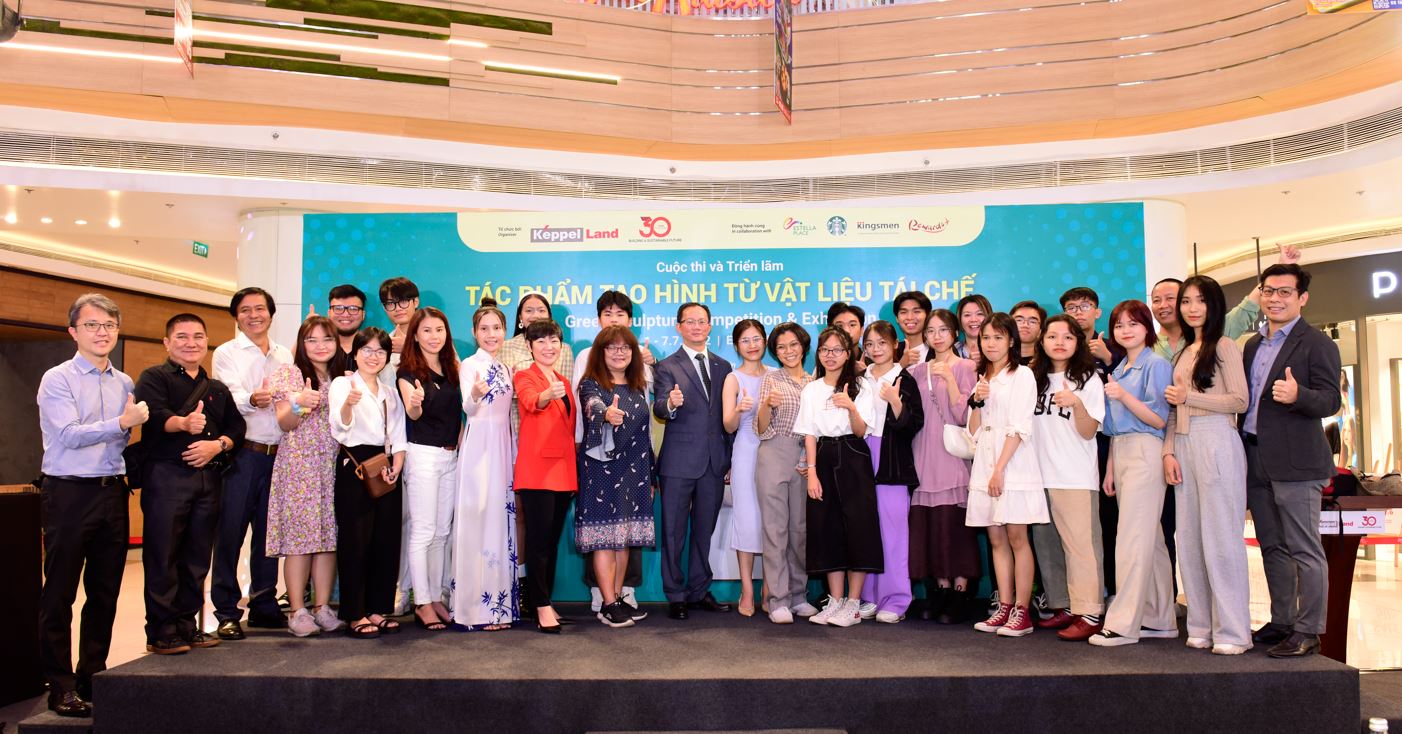 Mr Joseph Low (centre), President (Vietnam) of Keppel Land, with partners and budding young talents at the launch of the Green Sculpture Competition and Exhibition.
In 2021, Keppel Land took a significant step for climate action by announcing its commitment to halve its Scope 1 and 2 absolute greenhouse gas (GHG) emissions by 2025 from 2020's level, and achieve net zero by 2030. It is the first in Asia's real estate sector to set a near-term science-based target to reduce Scope 1 and 2 GHG emissions by 100%, in line with the 1.5°C trajectory. Keppel Land has also committed to reduce Scope 3 GHG emissions from purchased goods and services by 20% per square metre by 2030 from a 2020 base year.
Keppel Land entered Vietnam in the 1990s. Over three decades, the Company has grown with Vietnam to become one of the largest foreign real estate investors in the country today. Keppel Land has also been active in the community in Vietnam through a range of environmental outreach efforts and corporate social responsibility programmes. These include providing tertiary education scholarships to talented students in Vietnam who face financial difficulties, the sponsorship of the Words on Wheels mobile library project to promote reading and learning among students, support for communities affected by COVID-19, the Living Well clean water initiative launched earlier this year, as well as the Parting of the Plastic Sea exhibition at Estella Place and the Plastic Straw Free challenge at Saigon Centre to raise awareness on the impact of plastic waste on the environment.
Its retail malls, Saigon Centre and Estella Place, have also recently launched campaigns to encourage shoppers to donate reusable bags and bring their own shopping bags, in support of the International Plastic Bag Free Day in July. The Green Sculpture Competition and Exhibition is another example of how Keppel Land seeks to create positive social impact while championing sustainability wherever it operates.
About Keppel Land
Keppel Land is a wholly-owned subsidiary of Keppel Corporation, a Singapore flagship multinational company, which provides solutions for sustainable urbanisation, focusing on energy & environment, urban development, connectivity and asset management.
Keppel Land delivers innovative and multi-faceted urban space solutions that enrich people and communities. Its sterling portfolio includes award-winning residential developments, investment-grade commercial properties and integrated townships. It is geographically diversified in Asia, with China, Singapore and Vietnam as its key markets, while it continues to scale up in other markets such as India and Indonesia.
In Vietnam, Keppel Land is a pioneer and one of the largest foreign real estate investors with a quality portfolio mainly in Ho Chi Minh City, including Grade A offices, residential properties, retail malls, integrated townships and award-winning serviced apartments.
For further information, please contact:
Media Relations
Trang Le (Ms)
Manager, Marketing & Communications Keppel Land (Vietnam)
MB: 0903 918 929
Email: tranglt@kepland.com.vn