Newsroom
11 Aug 2022
Keppel Land ranked among top 50 sustainable development companies in Vietnam
Ho Chi Minh City, 11 August 2022 – Keppel Land has emerged as one of the top sustainable development companies in Vietnam at the Top 50 Corporate Sustainability Awards (CSA) 2022 organised by Nhip Cau Dau Tu Magazine. The top 50 companies were assessed based on various criteria including stable growth, sustainable corporate culture, corporate governance, environmental protection and social responsibility.
Mr Joseph Low, President (Vietnam) of Keppel Land, said, "In line with Keppel's Vision 2030, Keppel Land is advancing sustainability, creating vibrant, multi-faceted real estate solutions that enrich people and communities through environmental stewardship, responsible business practices, and uplifting communities wherever we operate. As we celebrate Keppel Land's 30th anniversary in Vietnam, we look forward to continue growing with the country and contributing to its sustainable development."
Keppel Land is a pioneer and one of the largest foreign investors in Vietnam with over 20 projects and total registered investment capital of about USD3.5 billion. The company drives socially and environmentally responsible initiatives that aim to achieve impactful environmental, social and governance outcomes for its stakeholders.
Keppel Land's commitment to deliver developments that are efficient and environmentally sustainable has seen the company win 12 Green Mark Awards from the Building and Construction Authority of Singapore.
To better manage processes and costs, while enhancing efficiency, productivity, compliance and controls, Keppel Land has adopted international standards and certifications in major business areas, including the ISO 37001 certification.
Keppel Land continues to engage and positively impact local communities through its corporate social responsibility programmes, focusing on environmental stewardship, supporting education and caring for the underprivileged. In the past three years, Keppel Land has contributed nearly VND13 billion to Vietnam's society through impactful initiatives, including a donation in support of Vietnam's nationwide efforts to fight the COVID-19 pandemic, as well as sponsorship of the Words on Wheels mobile library programme which promotes reading and learning among students.
More recently, in April 2022, Keppel Land, leveraging Keppel Infrastructure's expertise in water solutions, launched the Living Well initiative to provide water filtration systems that will offer about 20,000 villagers in both the Dai Hoa Loc and Bao Thuan communes in Ben Tre province, Vietnam, better access to clean drinking water.
As Vietnam continues to undergo rapid urbanisation, Keppel Land looks forward to continue contributing to the country's sustainable development for the next 30 years, and beyond.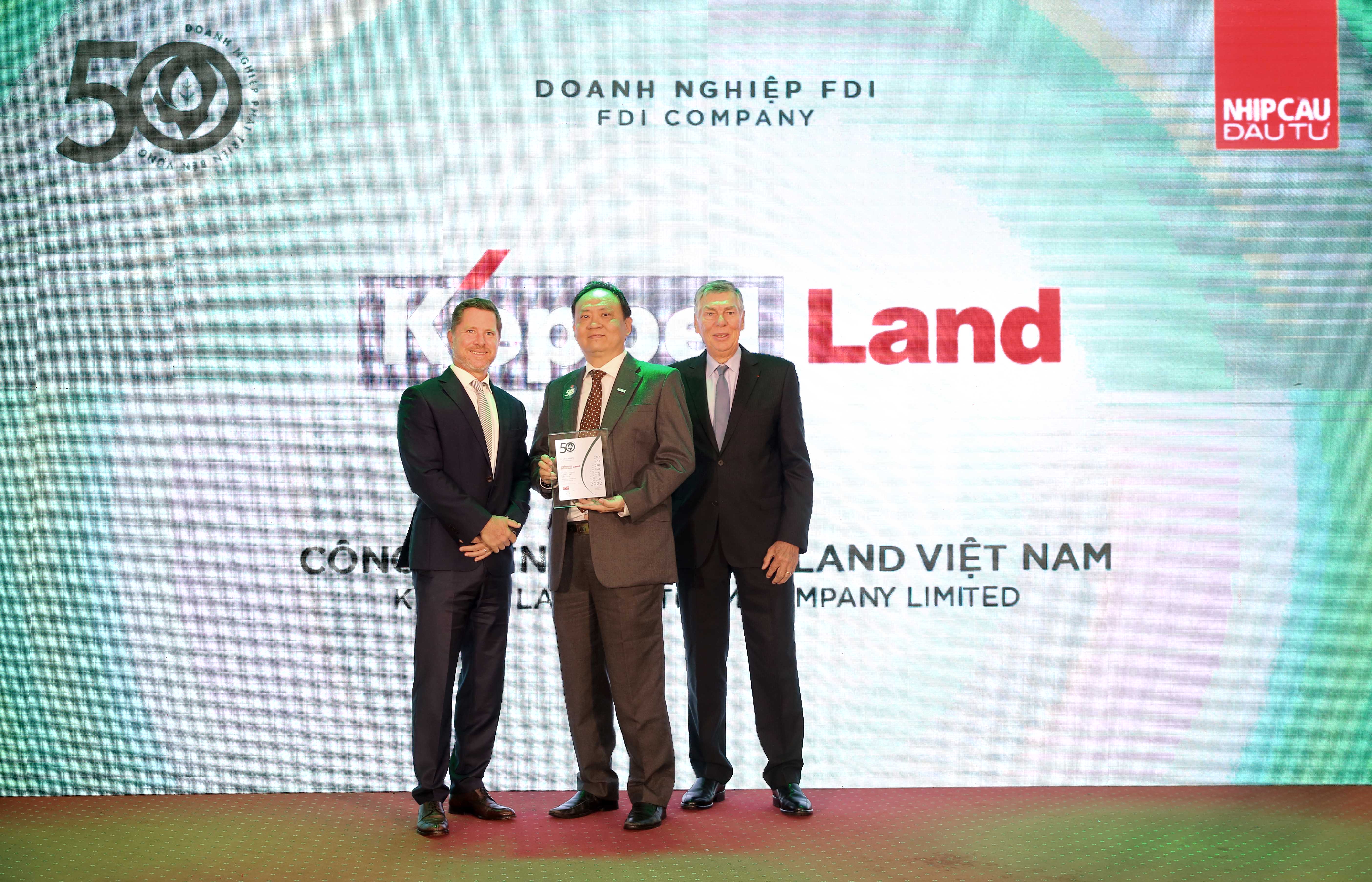 Mr John Lee (middle), Chief Financial Officer of Keppel Land Vietnam, received the "Top Sustainable Development Companies in Vietnam" award on behalf of Keppel Land Vietnam.
About Keppel Land
Keppel Land is a wholly-owned subsidiary of Keppel Corporation, a Singapore flagship multinational company, which provides solutions for sustainable urbanisation, focusing on energy & environment, urban development, connectivity and asset management.
Keppel Land delivers innovative and multi-faceted urban space solutions that enrich people and communities. Its sterling portfolio includes award-winning residential developments, investment-grade commercial properties and integrated townships. It is geographically diversified in Asia, with China, Singapore and Vietnam as its key markets, while it continues to scale up in other markets such as India and Indonesia.
In Vietnam, Keppel Land is a pioneer and one of the largest foreign real estate investors with a quality portfolio mainly in Ho Chi Minh City, including Grade A offices, residential properties, retail malls, integrated townships and award-winning serviced apartments.
For further information, please contact:
Media Relations
Trang Le (Ms)
Manager, Marketing & Communications Keppel Land (Vietnam)
MB: 0903 918 929
Email: tranglt@kepland.com.vn