Newsroom
24 Nov 2011
Keppel breaks ground for phase two of Saigon Centre in Ho Chi Minh City
The integrated mixed-use development is set to position Ho Chi Minh City as a coveted live-work-and-play city
Work will commence for phase two of the highly-anticipated Saigon Centre with a groundbreaking ceremony held on site today by Keppel Land and its joint venture partners, Southern Waterborne and Transportation Corporation (SOWATCO) and Saigon Real Estate Corporation (RESCO)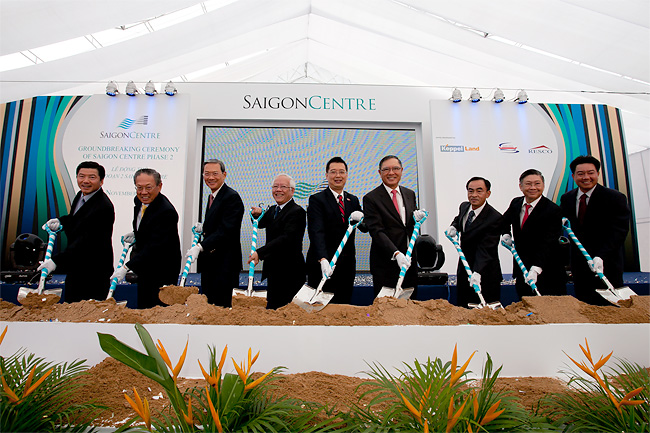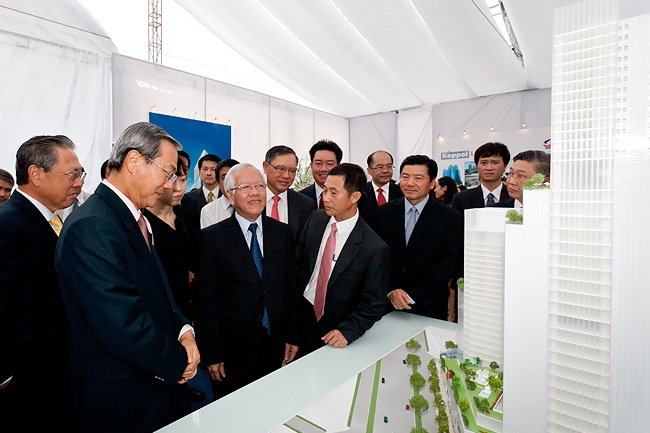 The ceremony was graced by His Excellency Le Hoang Quan, Chairman of Ho Chi Minh City People's Committee, and witnessed by the Board and management of Keppel Land, as well as more than 200 guests comprising government officials, leading financial institutions, tenants and business associates.
Strategically located along Le Loi Boulevard in the heart of HCMC's CBD, phase one of the award-winning Saigon Centre was completed in 1996 and has established itself as the preferred shopping destination and a business address for diplomatic corps, multi-national companies, as well as banking and financial institutions.
Designed by internationally renowned architect, NBBJ based in New York, phase two of Saigon Centre, when fully completed in 2015, will stand tall at 45 storeys with seven levels of retail and dining spaces spread across 50,000 sm; 40,000 sm of premium Grade A office space and over 200 units of luxury serviced apartments.
Speaking at the ceremony, Mr Choo Chiau Beng, CEO of Keppel Corporation and Chairman of Keppel Land, said, "Keppel Land is privileged to lend our experience and know-how to create another landmark development that will redefine Ho Chi Minh City's cityscape. This is in line with our aim to transform and enrich lives of the communities wherever we operate.
"We are confident that Saigon Centre will be a showcase that will position Ho Chi Minh City as a coveted live-work-and-play city, as well as reflect the development expertise and brand name of Keppel Land."
Mr Truong Quoc Hung, General Director of SOWATCO and Member of the Board of Management of Keppel Land WATCO, the joint venture company behind Saigon Centre, said, "The groundbreaking marks a significant milestone in the partnership between Keppel Land, SOWATCO and RESCO. The development of this new phase will further entrench our relationship as we work towards positioning Saigon Centre as a premier landmark development in Vietnam."
In HCMC, apart from Saigon Centre, Keppel Land is developing Riviera Point, a 2,400-unit waterfront lifestyle development with residential and retail facilities in District 7; The Estella, a prime 1,393-unit condominium development in District 2; and Riviera Cove, a 96 resort-style villa development fronting the Rach Chiec river.
As part of its efforts to ensure safety at the workplace, Keppel Land, with the support of the local Vietnamese partners, is opening a Safety Awareness Centre to provide training to raise the safety standards among its workforce.
Mr Choo added, "Through the Safety Awareness Centre, we hope to instill a culture of safety among our workers and raise the safety standards in all our projects, which will in turn benefit the country's construction industry as a whole."
About Keppel Land
Building on a growing relationship that spans more than two decades, Keppel Land is one of the largest foreign real estate investors in Vietnam.
Named the Best Developer in Vietnam in 2010 by Euromoney, a leading global financial magazine, Keppel Land has a quality portfolio of properties in Hanoi, Ho Chi Minh City, Dong Nai and Vung Tau including Grade A offices, residential properties, integrated townships and award-winning serviced apartments.
To-date, Keppel Land has 17 projects in Vietnam, with a total investment capital of almost USD 2 billion and a pipeline of about 22,000 homes.
About Southern Waterborne and Transportation Corporation (SOWATCO)
SOWATCO is the state enterprise under the Ministry of Transport of Vietnam. The Company operates in multi-sectors including waterway transportation, port and logistics, construction, im-export, shipyard, lubricant distribution, waterway infrastructure and other related services.
About Saigon Real Estate Corporation (RESCO)
RESCO is a state enterprise under the People's Committee of Ho Chi Minh City. Its key business activities include real estate, construction, industrial park infrastructure, housing, office rental and warehousing.