Newsroom
20 Aug 2013
New lease of life for Vinh Son School in Ho Chi Minh City's District 7
The refurbishment of the school is part of Keppel Land's commitment to enrich lives of the less privileged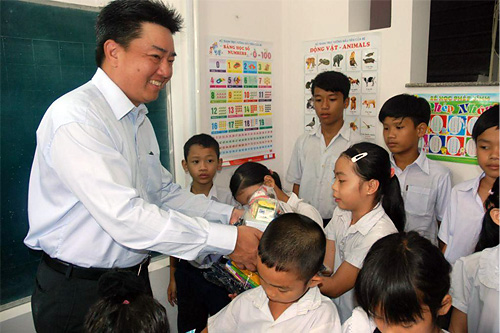 Keppel Land is committed to be a responsible corporate citizen, contributing and enriching lives of communities wherever it operates.
A total of 40 volunteers from Keppel Land's office in Vietnam and Ssangyong Engineering & Construction (Ssangyong), committed two days to giving the Vinh Son School in District 7, Ho Chi Minh City (HCMC), a new lease of life. Ssangyong is the main contractor for Keppel Land's residential development, Riviera Point, in District 7.
The two-day effort, which took place on 16 and 17 August 2013, is also part of the Keppel Group-wide community outreach programme to commemorate Keppel Corporation's 45th Anniversary.
The Vinh Son School is founded by Ms Hoang Anh who converted her home into a school for the less fortunate. There are currently 82 students in the first to fifth grade. Besides giving the school a fresh coat of paint, the volunteers also carried out general electrical and maintenance work to provide the students a safe study environment. All old or damaged electrical fixtures were replaced and more lightings and ventilation were installed in the classrooms.
The refurbished school was handed over to Ms Anh, who is also the school's principal, on 19 August 2013 before the start of the new semester. Mr Linson Lim, President of Keppel Land in Vietnam, also presented Ms Anh with two sets of desktop computers and new school uniforms for all the students. Staff from Keppel Land's office in Vietnam also donated books, stationeries and reading materials.
Mr Lim shared, "At Keppel Land, we believe that as communities thrive, we thrive. Our operations often take us into the heart of many local communities and we strive to positively impact and enrich the lives of the people wherever we operate. We also want to actively engage and involve our stakeholders, in this instance, Ssangyong, in our efforts as we seek to empower lives for sustainable change and improvement."
A volunteer, Ms Minh Tam, Senior HR Manager at Keppel Land in Vietnam, added, "I am happy to have made a difference to the lives of the children. I was heartened to see the smiles in the children's eyes when they received their new uniforms and books. I am glad the Company encourages us to give back to the community by supporting these meaningful initiatives."
Keppel Land is currently developing Riviera Point in District 7. Construction of Phase 1A is progressing on track with completion expected in 2015. When fully developed, Riviera Point will be the tallest condominium in District 7.
In HCMC, Keppel Land is also regular supporter of its adopted charities – Mother La Vang Home and Phan Sinh Home in the Dong Nai Province.
The Company is also a main sponsor of the Words on Wheels (WoW) mobile library project in Hanoi. A joint initiative by the Singapore International Foundation and Hanoi Public Library, the programme aims to raise literacy levels by providing some 4,000 Hanoi village children across 10 different villages access to 1,500 English and Vietnamese books, six computer terminals with internet access, as well as educational games and toys.
About Keppel Land
One of Asia's premier property companies, Keppel Land is recognised for its sterling portfolio of award-winning residential developments and investment-grade commercial properties as well as high standards of corporate governance and transparency.
The Company is geographically diversified in Asia, with Singapore and China as its core markets, and Vietnam and Indonesia as its growth markets. It focuses on a two-pronged strategy of property development for sale and property fund management.
Building on a growing relationship that has spanned more than two decades, Keppel Land is one of the pioneer and largest foreign real estate investors in Vietnam with a diverse portfolio of properties in Hanoi, HCMC, Dong Nai and Vung Tau that includes Grade A offices, waterfront homes, integrated townships and award-winning serviced residences.
Keppel Land was named Vietnam's Best Developer, Best Residential Developer, the Best Mixed-use Developer as well as third overall in the Office Developer category at the prestigious international Euromoney Real Estate Awards 2012, which recognise the best in the global real estate industry.