Newsroom
23 Feb 2012
Takashimaya to be anchor tenant in Keppel Land Watco's Saigon Centre Phase 2 in Ho Chi Minh City
The partnership marks Takashimaya's foray into the Vietnamese retail market and reinforces Saigon Centre's position as the coveted live-work-and-play destination.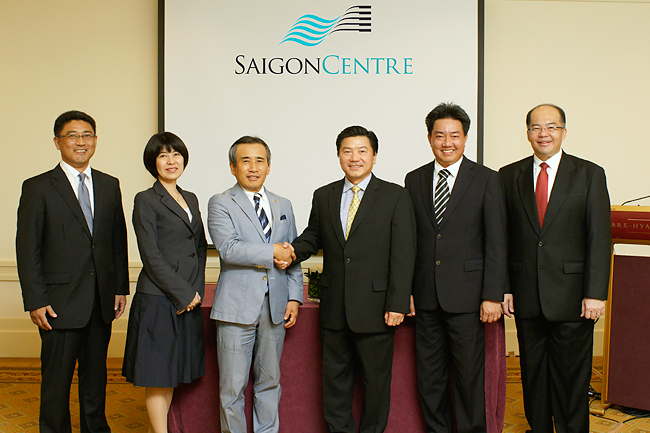 Keppel Land Watco has signed a conditional agreement with Takashimaya Singapore Ltd ("Takashimaya"), a subsidiary of Takashimaya Co., Ltd ("Takashimaya Co."), to pre-commit approximately 15,000 sm of retail space across five floors of Saigon Centre Phase 2.
With Takashimaya coming onboard as anchor tenant, about 30% of the total retail area is pre-leased ahead of the development's expected completion in 2015.
This agreement comes shortly after the groundbreaking of the integrated mixed-use development in November last year. It marks Takashimaya's foray into the lucrative Vietnamese retail market and is part of its strategy to further expand into Asia.
Mr Kevin Wong, Group CEO of Keppel Land, said, "We are pleased that Takashimaya has selected Saigon Centre as its choice location for its first retail mall in Vietnam. This further establishes Saigon Centre as the place to be and preferred address for quality tenants. An established and quality brand in the industry, Takashimaya will complement and enhance the overall retail offerings at Saigon Centre and HCMC as a whole.
"The strong pre-commitment secured almost three years ahead of completion is significant and reaffirms our positive sentiments on the Vietnamese retail market. Given our extensive experience in Vietnam, coupled with Takashimaya's retail expertise and skills, Saigon Centre is well-poised to become the shopping destination in HCMC."
Ms Yoko Yasuda, Managing Director of Takashimaya Singapore, said, "With 18 years of retail experience in Singapore and its network of supply source, we are confident of contributing to a new shopping lifestyle in HCMC. The Vietnamese retail market is entering an exciting phase of growth with an increasing middle income class and Takashimaya is looking forward to participate in this emerging market. This being Takashimaya's first department store in Vietnam, we wanted a strategic location and renowned partner - we found both in Saigon Centre and Keppel Land."
At the same time, Keppel Land will also jointly establish a 50:50 retail management company with Toshin Development Singapore Pte Ltd, the Singapore subsidiary under Toshin Development, to provide retail management services for Keppel Land's projects in Vietnam. Toshin's expertise and skills in retail mall development will ensure that we continue to adopt best-in-class approach that will ensure operational excellence at Saigon Centre.
Strategically located along Le Loi Boulevard in the heart of HCMC's CBD, Phase 1 of the award-winning Saigon Centre was completed in 1996 and has established itself as the preferred shopping destination and a business address for diplomatic corps, multi-national companies as well as banking and financial institutions.
Currently under construction, Phase 2 of Saigon Centre is designed by internationally renowned architect, NBBJ based in New York. When fully completed in 2015, it will stand tall at 45 storeys with seven levels of retail and dining spaces spread across 50,000 sm; 40,000 sm of premium Grade A office space, and over 200 units of luxury serviced apartments.
The proposed joint establishment of the retail management company is not expected to have any material impact on the earnings per share or net tangible assets per share of the Company for the current financial year.
About Keppel Land
Building on a growing relationship that spans more than two decades, Keppel Land is one of the largest foreign real estate investors in Vietnam.
Named the Best Developer in Vietnam in 2010 by Euromoney, a leading global financial magazine, Keppel Land has a quality portfolio of properties in Hanoi, Ho Chi Minh City, Dong Nai and Vung Tau including Grade A offices, residential properties, integrated townships and award-winning serviced apartments.
To-date, Keppel Land has 18 projects in Vietnam, with a total investment capital of almost USD 2 billion and a pipeline of about 22,000 homes.
About Takashimaya Singapore
Takashimaya Singapore Ltd was established in 1993. It is Singapore's largest department store that spans 35,000 square meters and the Singapore's leading store operator in terms of turnover. It is the anchor tenant of Takashimaya Shopping Centre, located along the country's premium shopping belt, Orchard Road.
About Toshin Development Co Ltd / Toshin Development Singapore Pte Ltd
In 1963, Toshin Development Co Ltd was founded by its parent company, Takashimaya, to develop the first authentic suburban shopping centre in Japan.
Since the opening of the Takashimaya Shopping Centre in Ngee Ann City in Orchard Road in 1993, it has been maintained by Toshin as the No.1 luxury shopping centre in Singapore. Toshin Development Singapore Pte. Ltd. was incorporated in Singapore as a subsidiary company from a branch office in 2010 to further enhance the operation of the overseas business in Southeast Asia.