Keppel is committed to caring for the local community whenever it operates. The company's CSR approach focuses on championing environmental stewardship and social responsibility, and it believes that education is key to empowering lives.
Bringing Climate Action to the Forefront: 'R.I.S.E. to the Challenge' in Singapore
In 2020, Keppel, in partnership with the Sustainable Singapore Gallery managed by PUB, launched a pioneering public outreach program named 'R.I.S.E. to the Challenge.' This initiative aimed to address the critical environmental concern of rising sea levels and the imperative for immediate climate action. Managed by Terra SG, a social enterprise, the programme comprised a series of impactful exhibitions and interactive workshops, covering a broad spectrum of topics related to rising sea levels. These engagements explored the contributing factors, consequences, mitigation efforts, and adaptation strategies associated with this pressing issue.
Over the course of its initial run until April 2022, 'R.I.S.E. to the Challenge' held 40 exhibitions across schools and commercial properties within Keppel's portfolio. This extensive reach saw active participation from schoolchildren, building tenants, and the general public. The programme's success lies in its ability to effectively convey the urgency of climate action while fostering a sense of responsibility among diverse audiences.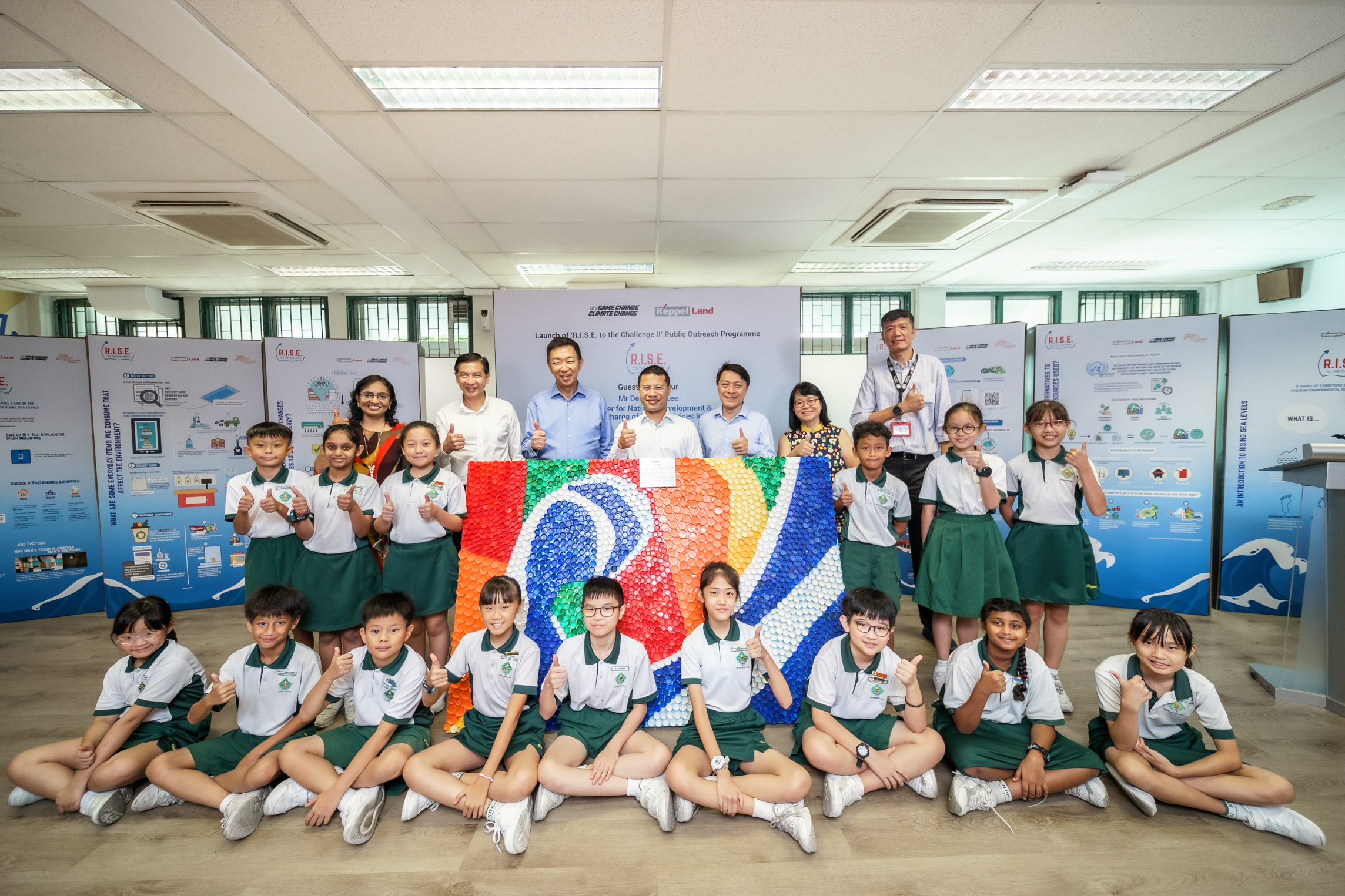 An art mural, titled Tides of Change, was commissioned to commemorate the official launch, and was created with used plastic bottle caps collected by students and schools that participated in the first phase of the 'R.I.S.E. to the Challenge II' programme. In picture, Mr Loh Chin Hua (third from left), CEO of Keppel Corporation, Mr Louis Lim (third from right), CEO of Keppel's Real Estate Division, Mr Desmond Lee (middle), Minister for Ministry of National Development Singapore and Minister-in-charge of Social Services Integration and other delegates taking a picture with students and the Tides of Change art mural.
Buoyed by the resounding success of the first phase, Keppel extended 'R.I.S.E. to the Challenge' for an additional two years, from August 2022 to 2024, initiating 'R.I.S.E. to the Challenge II.' This second phase presented a fresh format and an array of new activities to broaden its community outreach and engagement. Alongside physical exhibitions, an e-book was introduced, based on the substantial exhibition content. This e-book was disseminated to primary and secondary schools as well as junior colleges across Singapore, magnifying the program's impact.
Extending the Reach: 'R.I.S.E. to the Challenge' in Vietnam
Keppel's dedication to climate action extends beyond Singapore's borders. In early November 2022, the Company extended its climate action initiative to the students from Ganh Dau Primary and Secondary School, Phu Quoc, Vietnam. Similar to Singapore, Phu Quoc is an island which is vulnerable to climate change. In Phu Quoc, Keppel sponsored 100 books translated from the 'R.I.S.E. to the Challenge' initiative with the support of Keppel volunteers, making critical climate change information accessible to Vietnamese young audiences. These translated books offer insights into the ways climate change impacts Vietnam and provides guidance on combatting this global challenge.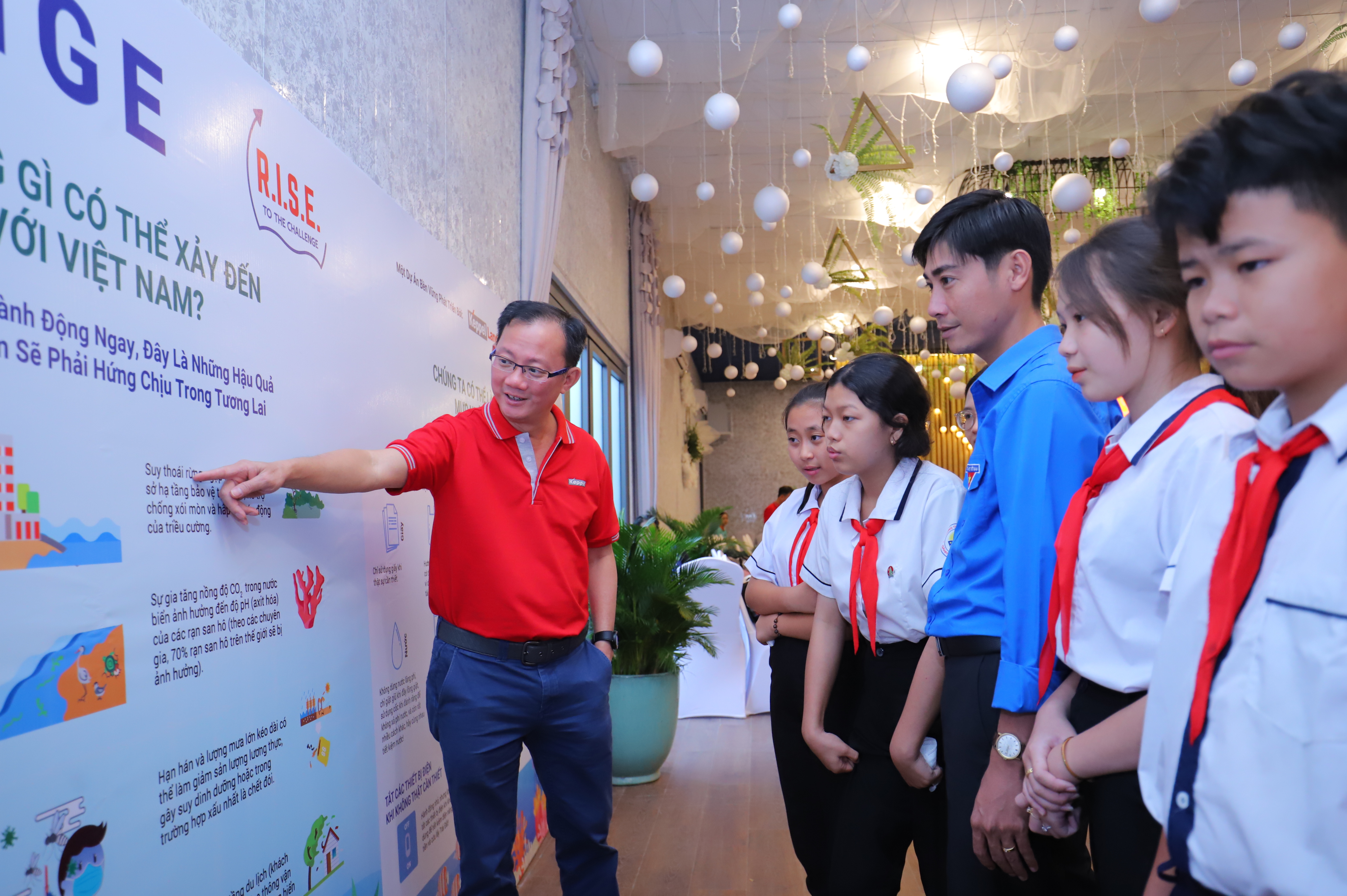 Mr Joseph Low, President (Vietnam) of Keppel's Real Estate Division sharing about rising sea levels with the students of Ganh Dau Primary and Secondary School.
Furthermore, Keppel's commitment reached the students from Phu Dong Secondary School in Tien Giang, one of the most drought-stricken areas in the Mekong Delta due to climate change, through educational activities aimed at promoting climate change awareness among younger generations. As part of its ongoing efforts, Keppel is set to bring 'R.I.S.E. to the Challenge' to students in Ca Mau on 30 August, continuing its mission to create widespread awareness and inspire positive action against rising sea levels and climate change.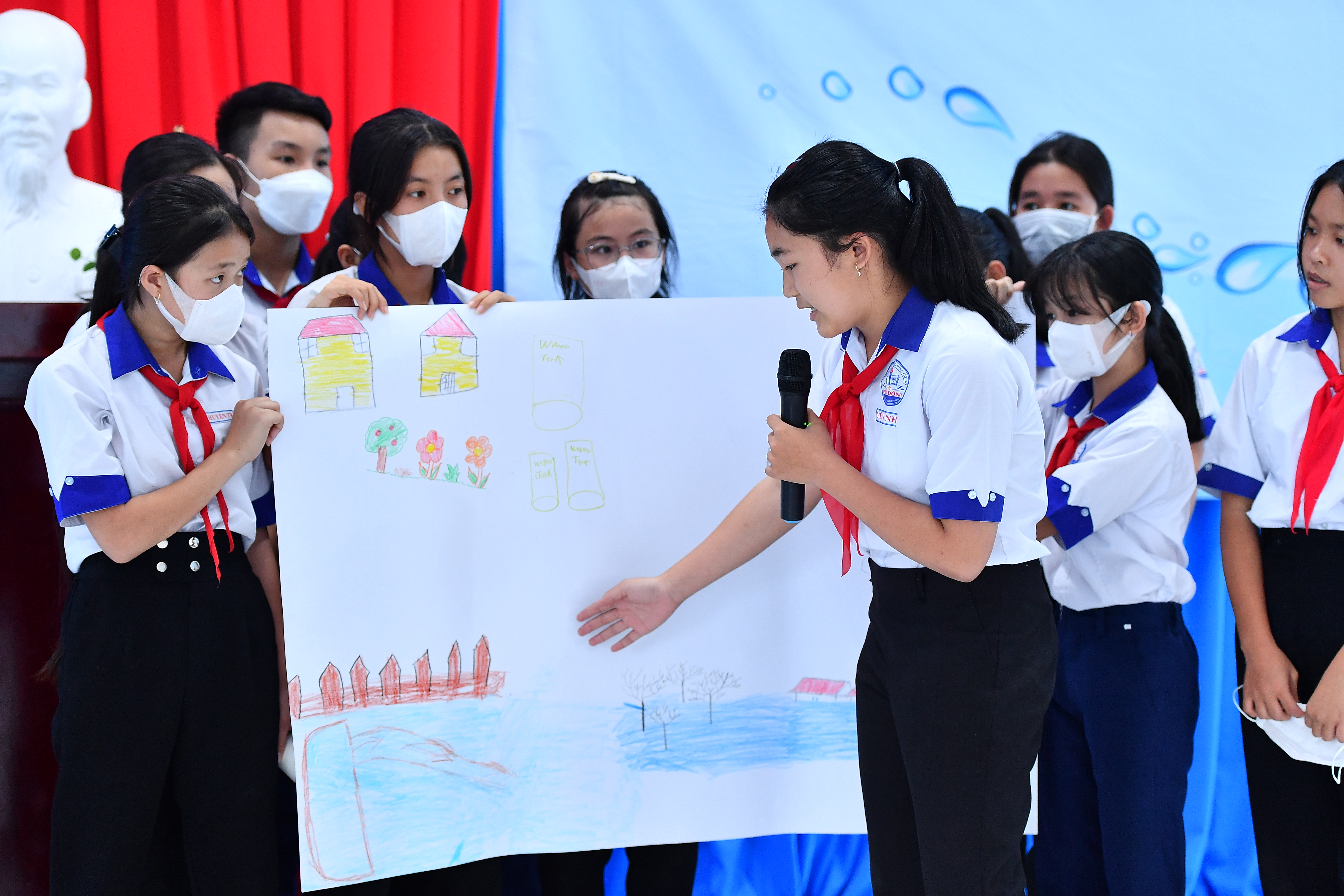 Students from Phu Dong Secondary School in Tien Giang at the 'R.I.S.E. to the Challenge' painting workshop learning about sea level rise and its impact.
Keppel's 'R.I.S.E. to the Challenge' stands as a testament to the power of collaboration and education in addressing the planet's most pressing environmental issues. Through engaging exhibitions, innovative initiatives, and a commitment to sustainability, The Company continues to empower individuals and communities to take meaningful steps towards a more resilient and sustainable future.