Did you know? Improper disposal of used batteries can contaminate the land and water sources for up to 50 years . Despite this alarming fact, 15 billion batteries are discarded worldwide every year , and this number shows no signs of decreasing.
E-waste (electronic waste) has emerged as a pressing global concern in our digital age. Improper disposal of used batteries, a common type of e-waste, poses a threat to our environment and health.
To promote the proper disposal of used batteries among the general public and in conjunction with International E-waste Day, Keppel announced its latest green initiative where the Company will introduce six battery disposal bins at its flagship commercial developments, Saigon Centre and Estella Place.
The bins, located at Saigon Centre office lobbies, as well as the shopping malls' halls of Saigon Centre and Estella Place, will serve as collection points for used batteries, making it convenient for individuals to do their part in protecting the environment.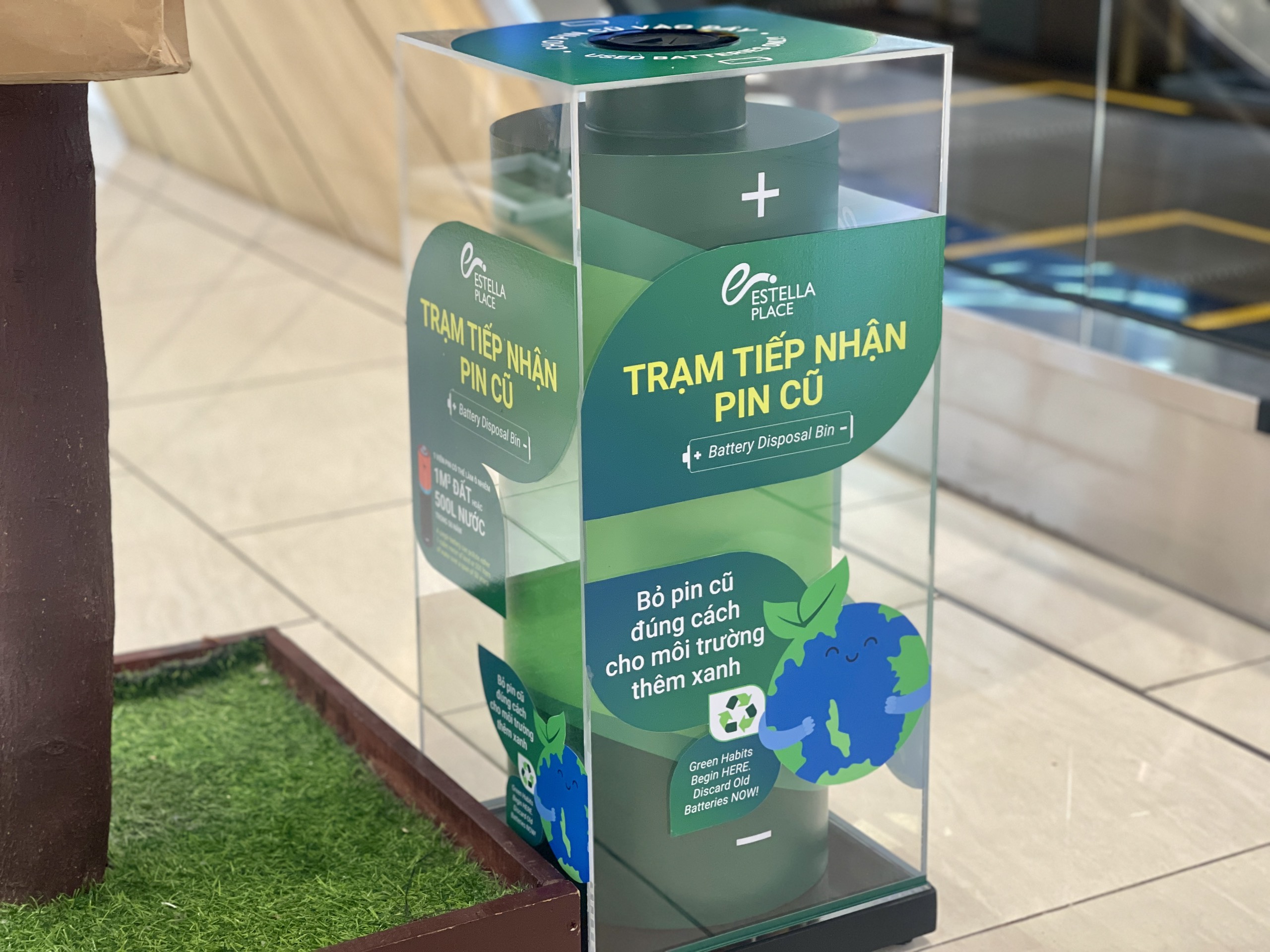 A battery disposal bin at Estella Place, Thu Duc City, HCMC.
Instead of ending up in landfills, where they can harm the environment, these used batteries will be sent to battery recyclers who specialise in safely extracting materials and disposing of any hazardous components. The materials from this recycling process can be repurposed for various usages such as concrete creation, reducing the need for the extraction of new resources and minimising our negative impact on the environment.
With a legacy built on responsible business practices, Keppel continues to lead the way in pioneering initiatives that contribute to a greener and more sustainable future. Over the years, the Company has demonstrated its dedication to green initiatives which promote environmental protection among the general public.
One such initiative involves the installation of special trees at Saigon Centre and Estella Place in Vietnam. These unique trees encourage shoppers to return shopping bags after use or donate additional bags to promote the culture of reuse and contribute to a greener environment.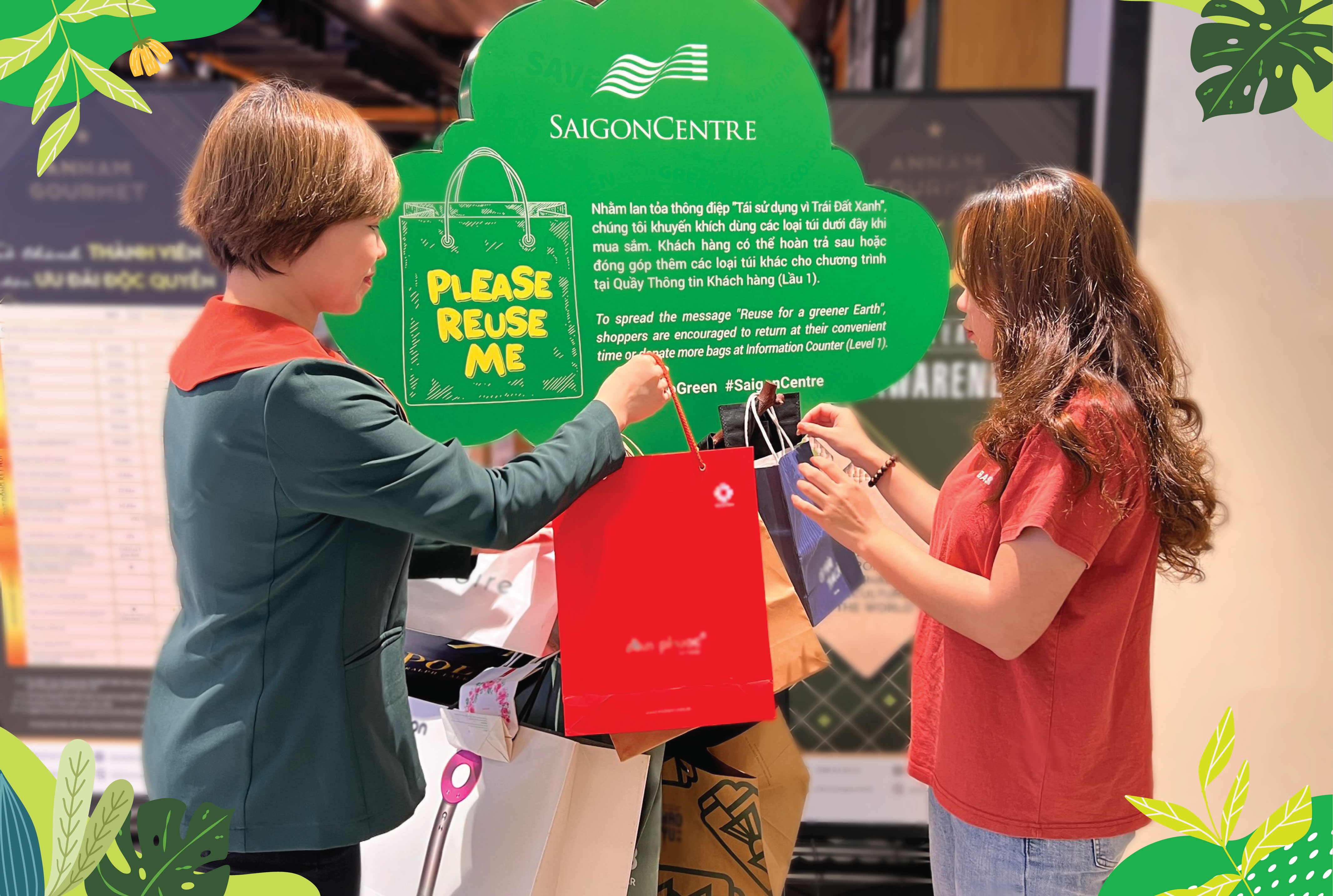 The "special" trees at Saigon Centre, HCMC.
The Company previously also organised the Plastic Straw Free challenge at Saigon Centre, which was held to promote the use of biodegradable or reusable alternatives to plastic straws, such as bamboo or paper straws.
In 2019, the Company sought to raise awareness about plastic waste in the ocean by organising the display of a plastic straw art installation, which was made from 168,000 plastic straws and packaging recovered from the streets of Vietnam at Estella Place. Named "The Parting of the Plastic Sea", the art installation achieved the Guinness World Record for the "Largest drinking straw sculpture (supported)".
In July 2022, Keppel organised the Green Sculpture Competition and Exhibition, where participants were tasked to create sculptural artworks with recycled materials. The competition received close to 60 submissions from more than 100 students and members of the public.
Also in 2022, Keppel also contributed 3,000 trees to the Dong Nai Culture and Nature Reserve in support of Vietnam's national program that targets to plant one billion trees by 2025.
Keppel is a pioneer and one of the largest foreign real estate investors in Vietnam with over 20 projects and total registered investment capital of about USD3.5 billion. The Company drives socially and environmentally responsible initiatives that aim to achieve impactful environmental, social and governance outcomes, contributing to the sustainable development of Vietnam.