Keppel Land was recognised for its contributions to Vietnam's sustainable development and for its outstanding corporate social responsibility practices over the past five years at Vietnam Investment Review's Sustainable Development Conference on 29 November 2022.
The theme of the conference was "ESG: the Key for Sustainable Development", and it provided a platform for the exchange of ideas and practices as well as discussions on the role of the business community in achieving Vietnam's sustainability targets. The recognition ceremony at the conference recognised businesses that have pioneered the application of environmental, social, and governance (ESG) principles to respond to global issues.
Mr Joseph Low, President (Vietnam) of Keppel Land, said, "We are delighted to be among the enterprises recognised by the Vietnam Investment Review for our contributions to Vietnam's sustainable development. Over the years, the company has contributed to Vietnam's urbanisation by offering high-quality and sustainable urban space solutions that enrich people and communities. We will continue to advance our sustainability capabilities and pursue business opportunities, especially in the area of sustainable urban renewal, as we forge ahead in our vision to redefine urban spaces for a sustainable future."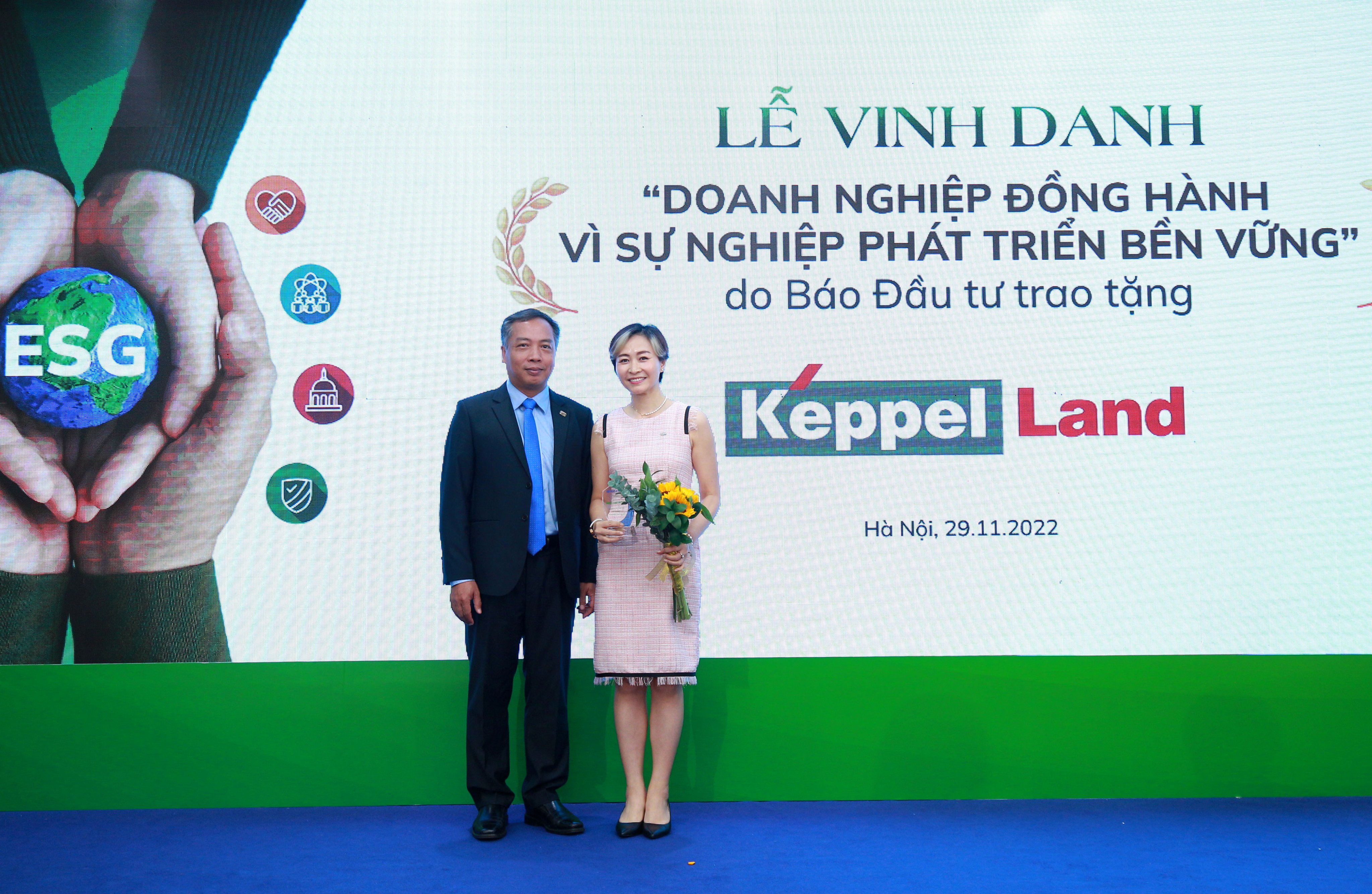 Ms Le Trang, Marketing & Communications Manager (Vietnam) of Keppel Land, received the trophy on behalf of the company at the Vietnam Investment Review's Sustainable Development Conference.
Keppel Land is a pioneer and one of the largest foreign investors in Vietnam with over 20 projects and total registered investment capital of about USD3.5 billion. As a company that places sustainability at the core of its strategy, Keppel Land is committed to conducting its business in a responsible, productive and profitable manner, and aligns with and benchmarks its business practices against global standards in sustainability.
In addition, Keppel Land has been actively supporting the local communities whenever it operates. The company's corporate social responsibility (CSR) approach focuses on championing environmental stewardship and social responsibility. In Vietnam, the company has stepped up their CSR efforts since 2008, through organising various initiatives to protect the environment, support education and care for the underprivileged.
As Keppel Land Vietnam commemorates its 30th anniversary this year, the company is committed to advancing the sustainability cause in its operations and activities for the next thirty years, and beyond.